What are the Best Place to Live in Norfolk?
Few places in the world capture the essence of coastal living like the villages and towns of Norfolk. With picturesque coastlines, spectacular scenery, and plenty to do, Norfolk's characteristics feature in many a literary tale and poem.
If you're looking for the best places to live in Norfolk, the first step is knowing what you want out of your new residence. Consider your preferred lifestyle along with practical considerations like economic opportunities, schools, and utilities, even broadband speed. Then drive around Norfolk or hop on a train at the nearest railway station to explore and experience what each town in your list offers.
The main reason why Norfolk is a desirable place to live is its surprising variety. With an abundance of towns and villages, the county blends modernity with tradition and beckons the curious to discover. Starting a family, life on the beach, and refuge from the chaos of daily life are all possible in this exceptional county by the sea.
7 Best Places to Live in Norfolk, England
1. Norwich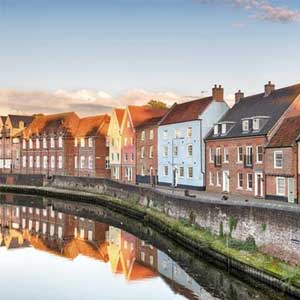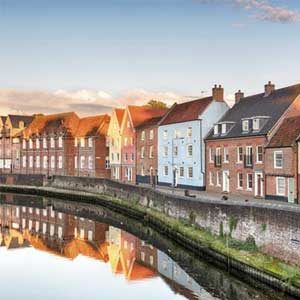 The city of Norwich has been named by The Sunday Times as the best place to live in East England. It has 143,000 residents and a young population, with many students calling it home. Norwich has all the convenience of city life, but its winding streets and 15th-century architecture take one back in time.
With its medieval-meets-modern charm and artistic flair, this city is perfect for those looking for the best of both worlds. Norwich has a thriving bar scene and plenty of places to shop. It also has a wealth of sightseeing activities, making it an ideal place to have fun for both visitors and residents.
2. Aylsham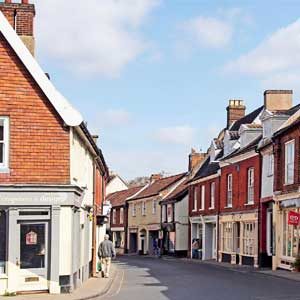 This market town ranked in The Sunday Times 2019 list of Best Places to Live in the UK.  Located between the countryside and the ocean, Aylsham in North Norfolk boasts 6,000 residents and an abundance of entertainment.
Ann Boleyn's birthplace still retains its English charm and is one of the five UK Cittaslow towns. Its thriving community spirit and accessibility make it one of the best places to live for families in Norfolk.
Teashops and markets line Aylsham's streets, and it's easy on the eyes with gorgeous architecture and lush, green scenery. The town has several high-ranking schools and family-friendly activities, so there's always something to do.
3. Blakeney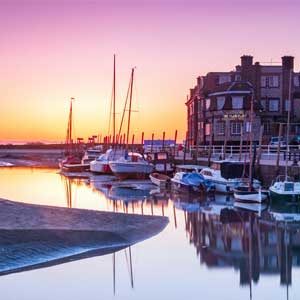 In 2019, The Sunday Times also included Blakeney in its list of top areas to live in the UK. Blakeney is a coastal town that looks toward the sea, beckoning explorers and old souls. The long coastline and colourful boats that line the water are reminiscent of an earlier time, while seafood eateries dotting the village give another meaning to the word fresh.
Blakeney has a small but lively population and isn't just a vacation town – although it gets plenty of visitors. It's most suitable for someone looking for a quieter experience near the sea year-round. During the summer months, Blakeney comes to life and offers surprisingly diverse activities like tai chi, badminton, and exceptional dining experiences.
4. Holt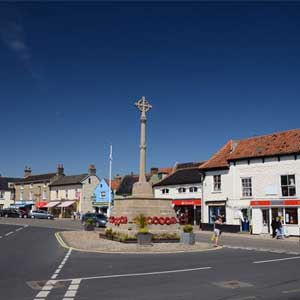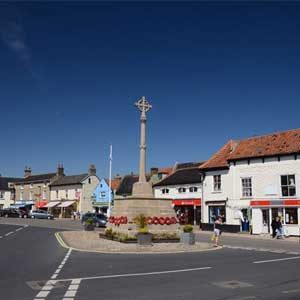 Holt is one of the more well-known areas in North Norfolk. This stunning Georgian town's appeal both delights and surprises, with colourful architecture that's sure to brighten your day.  With just over 9,100 people, Holt retains its historic character and is one of the best places to live for those looking to settle down and join a warm community.
This market town has numerous pubs, restaurants, and tearooms and isn't far from the coast. During the summer and winter months, there is plenty to do and many festivals that take place. Both residents and visitors find that Holt's aesthetic makes it easy to unwind and escape the bustle of modernity – even if only for a minute or two.
5. Hunstanton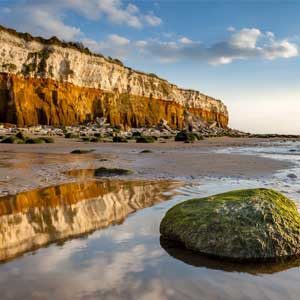 Hunstanton is arguably one of the most beautiful coastal towns in Norfolk, with a pristine coast and plenty of character. Old Hunstanton Beach is a sight for sore eyes, and its diverse wildlife is a dream for environmental escapists. The town is serious about keeping its aesthetic appeal, and cleanliness is a priority among its people.
The town has a population of 4,200 residents and is suitable for those who yearn to live away from the city. While its beaches do get impressive foot traffic during the summer months, unwinding and relaxing are year-round possibilities.
6. Wells-next-the-Sea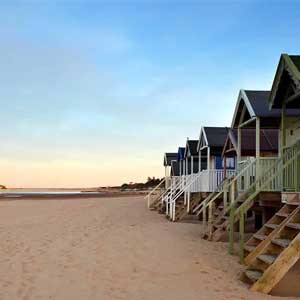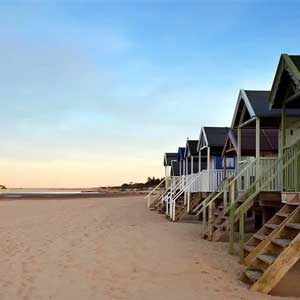 With bird sanctuaries, seaside attractions, and a beautiful harbour, Wells-next-the-sea is as unique as its name. This town nestles within England and Wales' biggest coastal reserve and has a diverse spectrum of wildlife. It is a small town with a population of just over 2,200 residents.
Wells-next-the-sea's active port and summertime attractions make it a great place to live for a seaside experience. This town may not be for everyone, but it's an ideal location if you're into the small-town vibe and want to take a break from the city.
7. Cromer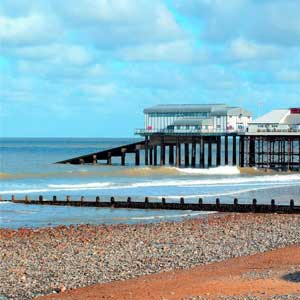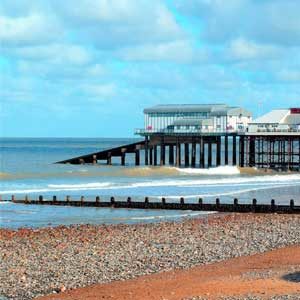 The beautiful resort town of Cromer is a favourite for residents of all ages. Whether you're into a seaside experience or want a more modern experience, Cromer has attractions and events that suit most tastes. It boasts a population of 7,500, with much to do and plenty to see.
During the summer months, the town embraces its rich English heritage and merrymaking activities abound like festivals and concerts. During the winter months, residents enjoy its many restaurants and pubs. Not to mention, there are plenty of places to shop and places to stay, such as B&B's and hotels.
Moving to Norfolk with Transport Executive
From the moment we pick up your furniture to the time it's in your new Norfolk home, Transport Executive is by your side. We handle your property with attention and care, and never compromise on customer service. Our team understands the challenges that come with relocation and work hard to ensure that your experience is hassle-free.
Depending on the size of your load, our specialists help you pick the right van for the job. If it's a self-loading request, we make sure you have the tools you need for a comfortable move.
At Transport Executive, we train our teams and perform thorough background checks for your safety and peace of mind. Our professional driver and van services move your belongings safely and securely, with Goods-In-Transit insurance and reasonable pricing.
Picking the best place in Norfolk and finding affordable house prices are the hard part, but getting there is not with Transport Executive. Before you make the big move, contact us today at +(44) 2033 184 720 for a free moving quote.
Want to know other top locations in the British Isles? Check out our list of the best places to live in the UK.
Related articles: