10 Best Places to Live in Manchester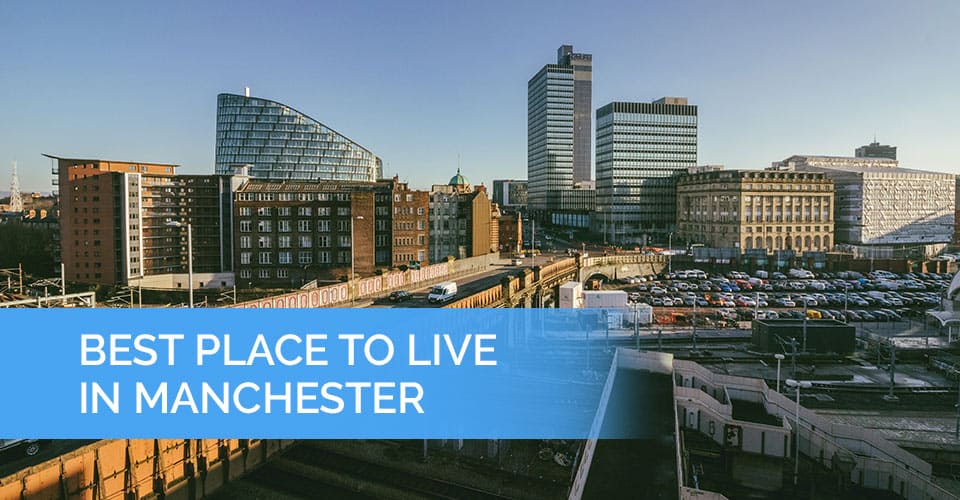 Manchester is regularly voted as one of the most recognised cities in the UK. With significant population growth in the last 20 years, it also attracts a lot of visitors.
A lot of the attraction comes from a thriving music scene, as well as possibly one of the most recognisable football teams in the world.
If you're considering moving to or within Manchester, then it's important to figure out the best places to live for your personal needs and circumstances. Not everyone needs to be close to the city centre, with family, work, and education significantly influencing your choices.
So, we have done some detailed analysis of the 10 best areas of greater Manchester to help you find a great place to live.
Our Recommended Places To Live in Manchester
1 – Sale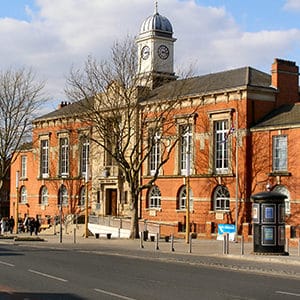 Sale is not just a popular place in Manchester, but it has also been voted one of the top 5 best places to live in England [1]. Just 3 stops from the city centre on the Metrolink, you can get into the main business activity within 20 minutes.
The style of housing ranges from 30s Victorian to modern terraces, as well as Edwardian detached homes.
Property prices are higher than average, with £320,000 for a semi-detached house, so keep that in mind.
2 – Altrincham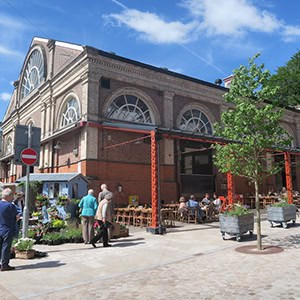 Altrincham was once little more than a failing and empty high street. But it has completely turned around and is now one of the more upmarket areas to live in the city.
Now, you would need a sizeable budget to buy a detached Edwardian house at over £750,000, but Altrincham does offer a lot.
From Altrincham Grammar School to many popular shops, bars, and restaurants, you also have good transport links to the city and airport.
3 – Rusholme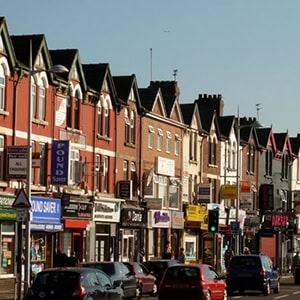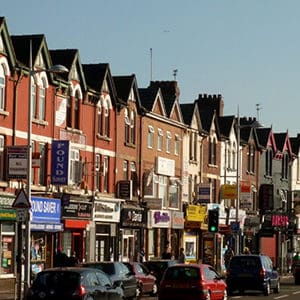 Rusholme is one of the more popular places to live in Manchester for students as well as young professionals. As property prices are relatively low, this also results in lower rental rates.
Public transport will also get you into Manchester city centre within about 30 minutes, so you're not sacrificing long commutes.
If you have a low budget but still want a lot of the conveniences, then this could be a great choice.
4 – Spinningfields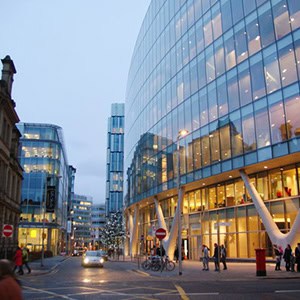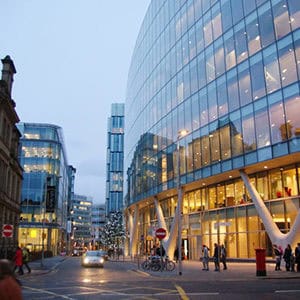 As one of the main commercial areas of the city centre,
Spinningfields is very popular with professionals who want to be within walking distance of some of the biggest companies.
It's packed full of bars and restaurants, and the transport links will take you right into the heart of Manchester within 15 minutes.
However, it also has a lot to offer families with plenty of good schools and easy access to recreational facilities like inner-city parks.
5 – Prestwich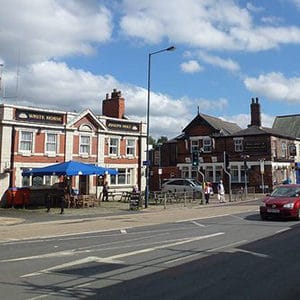 For those who want to live in Manchester and don't need daily and fast access to the inner city, Prestwich could be one of the more suitable areas to live in.
Located in the northern parts of Manchester, it will take you about 40 minutes to get to the city.
It's most popular with young families, due to a large selection of primary and secondary schools. Property buying and rental rates are also in a reasonable range.
6 – Didsbury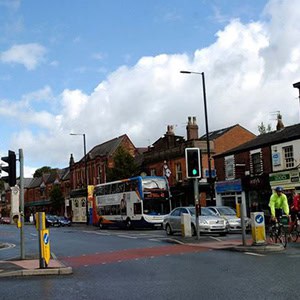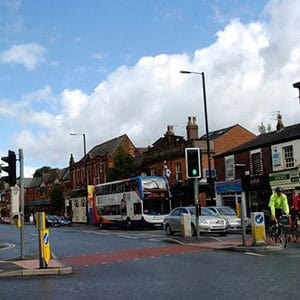 This has become one of the most desired places to live in Manchester, with many celebrities and football stars making this their home. However, it does mean that buying and rental prices for homes are significantly higher than average.
A lot of the popularity comes from the fact that it's just 4 miles from the city and airport. It also has a large area around Wilmslow road that is full of shops, restaurants, and bars.
7 – Castlefield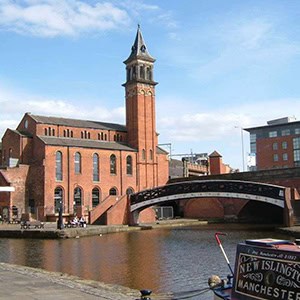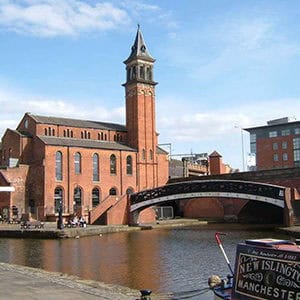 There's probably no other area that is as close to the inner city of Manchester than Castlefield.
It has a unique combination of old and new, with Roman-era forts, cobbled streets, and very modern living spaces.
Castlefield is also classified as an Urban Heritage Park [2]. As a result, traffic is very limited, making one of the best areas to get around on foot or by bike.
Visitors call the Castlefield Urban Heritage Park a quiet retreat from the bustling Manchester streets, complete with floating houseboats and picturesque pubs flanking the sides.
USNews.com.
8 – Ancoats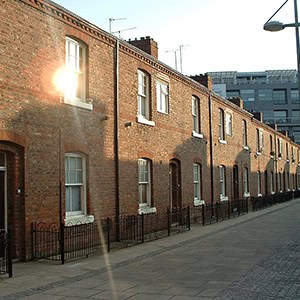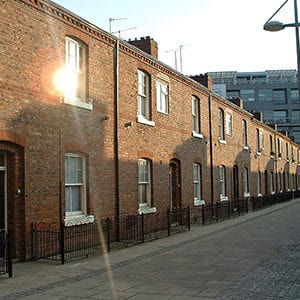 Ancoats is located just beyond the Northern Quarter to the east of the inner city. This makes it a very commutable distance to the business areas within about 15 minutes.
Ancoats is very popular with younger people with plenty of nightlife, trendy bars, and loads of daytime activity around restaurants and cafés. Keep in mind though that the majority of homes here are flats, but they are available at very reasonable rates.
9 – Chorlton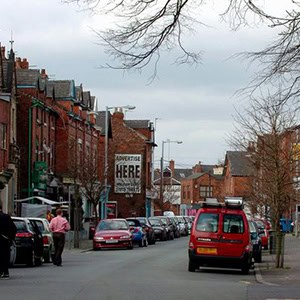 This is possibly one of the best areas in greater Manchester for families. Yes, it's a good 35 minutes by train into the city, but you gain a lot more green space around you. There are plenty of parks to bring kids, and you're quite close to Old Trafford too.
Buying and rental prices are still very reasonable, and it has something to offer everyone from young to old. There's no shortage of schools, and people who need to travel a lot by road will have close enough access to the M50.
10 – Salford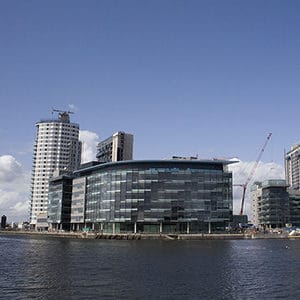 A lot of young families and professionals are choosing Salford out of all the options due to it's Metrolink access. You can get into the city within 15 to 20 minutes, and considering the house and rental prices, that's quite attractive.
But there is also the attraction of many large and high-tech companies being based here, which is why it could be one of the best places to live if you work in one of the tech companies.
Making A Choice For Your Personal Needs
The Greater Manchester area has something to offer people of all ages and backgrounds. With everything from modern highrises to Victorian townhouses and remnants of the Roman Empire, for many people, it's just one of the best places to live full stop.
If you are thinking about relocating to live in Manchester, then take the time to visit some of the above areas before you decide on where to find a place to live. And if you need help with moving, you can get in touch with our man and a van in Manchester.
References:
https://www.manchestereveningnews.co.uk/news/property/what-makes-sale-fourth-best-12689852
https://travel.usnews.com/Manchester_England/Things_To_Do/Castlefield_Urban_Heritage_Park_63054