How Much Do Piano Movers Cost? (Updated in 2022)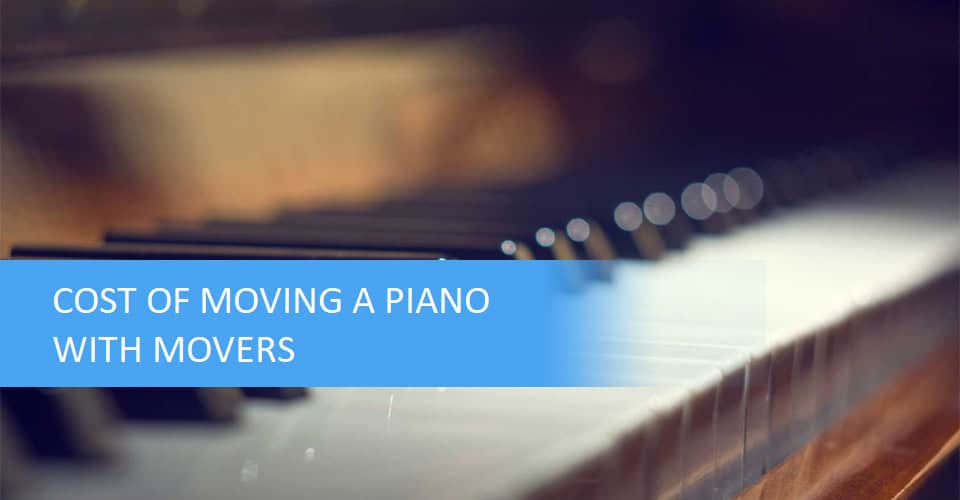 Pianos are large, heavy, and very delicate, so you cannot rely on regular furniture movers to transport them safely. Specialist piano movers are quite pricey, but they are well worth the cost. Your move will be so much less stressful when you know your beloved instrument is in good hands.
The cost of professional piano moving services depends on the type of piano and the distance of the move. Uprights generally cost half as much to move compared to grand pianos. An upright piano costs between £150 and £300 to move locally while moving a grand piano costs £200 to £600.
You may be speculative as to why the cost of moving a piano is so high? We chatted to two expert piano movers in the UK to find out exactly what goes into moving a piano safely from place to place. You may be surprised at the specialized skills and equipment that goes into it!
Pianos Are Very Difficult To Move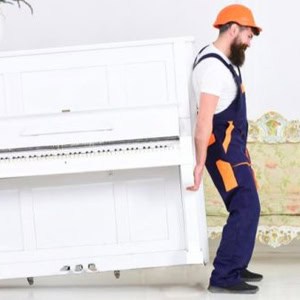 Professional piano moving companies exist for a reason – pianos are incredibly difficult to relocate.
Pianos are costly instruments, especially heirloom or antique ones. This means that there is zero room for error when it comes to moving them.
Pianos are generally far heavier than most pieces of furniture in your home. An upright piano weighs between 100 and 400 kilograms, and a grand piano can weigh anywhere from 200 to 700 kilograms!
These instruments are also extremely delicate. Pianos have so many moving parts and strings that can easily be damaged if they are not handled correctly.
What Is The Cost Of Specialist Piano Moving Services?
The cost of moving a piano varies based on a number of factors:
The distance the piano has to be moved – within a city, across the country, or internationally.
The type and size of the piano – is it an upright (spinet, console, or studio) or a grand piano (petite, baby, medium, parlour, or ballroom)? The weight and size of the organ will determine how much labour is required. Usually, it takes 2 to 5 people to move a piano.
The level of service and tools you require – the size of the truck, whether the truck is climate controlled or not, whether the piano has to be partially disassembled or not.
Generally, piano movers charge about £3 per mile for short distances and about £0.70 per mile for long-distance trips. However, the price of moving a piano varies depending on the company.
The typical hourly rate for professional piano movers is £7 to £15 per person per hour. Some companies charge a fixed rate, which is usually somewhere between £100 and £800 for short-distance moves and between £500 and £1900 for long-haul moves
Most professional piano movers have comprehensive cost calculators on their websites that you can use to get a quote.
Cost Of Moving A Piano Locally
Even if you want to move a piano from one room to another in a building, you will need to hire professional help. The average cost of moving a piano such a short distance is £100 to £250.
To move a piano across town, it generally costs between £250 and £750. This covers the cost of labour, fuel, and tools.
Cost Of Moving A Piano Across The Country
Things get much more expensive when you want to move a piano across the country. It will cost you at least £500 or more likely around £1900.
More specialized tools and materials are required for a cross-country move, and the piano moving company will also charge you for the travel costs (hiring the truck, the driver, and the gas).
Cost Of Moving A Piano Internationally Or Overseas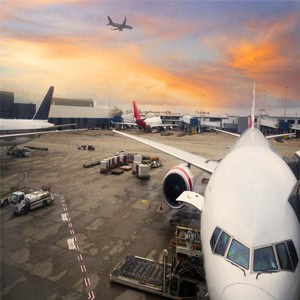 The cost of shipping a piano internationally is steep! This type of job requires more specialized tools, materials, and documentation (depending on the country).
Typically, moving companies will charge £700 to £2600 to move a piano between countries, depending on the distance between the countries.
If you need to move a piano overseas, you will be paying £1500 to £3700 at a minimum. It will cost more if the piano is a collectible or luxury brand.


Advantages Of Using Professional Piano Movers
The greatest advantage of hiring professional piano movers is that they have the tools and materials required for the job. They have trolleys and dollies, skid boards, straps, padding, a van large enough to fit your piano, and a piano lift or ramp to get it into the truck.
Moving a piano takes precision and patience, and they have the skills and experience to move your piano safely. Whether it has to move up or down flights of stairs or be partially disassembled and then reassembled on arrival, professional piano movers know exactly what they are doing.
Non-specialist moving companies do not often have good enough insurance to move items as precious as pianos. Specialist piano moving companies have adequate insurance to cover the hefty cost if anything should go wrong.
If you hire professionals to move your piano, you ensure that your instrument will be handled safely, transported in the right temperature-controlled environment, and tuned when it gets to its final destination.
How Are Pianos Moved And Transported?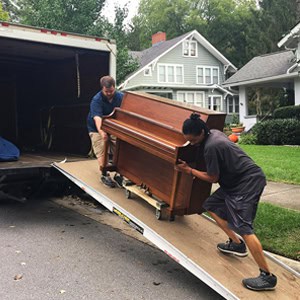 Before a piano is moved, it must be specially packed and secured to protect it during transit. The keyboard is locked so that it cannot open, and the instrument is wrapped in protective material.
Sometimes a very large piano, like a concert grand, has to be taken apart partially to move it. The legs, music rack, and pedal box are transported separately.
Pianos cannot be rolled on their casters! To move a piano, it must be strapped onto a dolly or trolley. If it has to go up or downstairs, movers use a special ramp.
To get a piano into the truck, a hydraulic lift is used. Once it is in the truck, it must be further secured using straps and clips. For a long-haul journey, a piano gets bolted to a board so that it cannot shift at all during transit.
The process is repeated in reverse when the piano reaches its destination. The piano movers will unpack it, reassemble it, place it where you want it, and tune it for you.
Conclusion
Moving a piano is a surprisingly complicated task! It is always better to get a professional team in to help than to attempt the job yourself, whether you are moving it from room to room or cross-country.
While specialist piano moving companies charge a hefty fee, it is well worth the cost to ensure that your instrument is moved safely and efficiently.
Drop by our website at Transport Executive for more articles like this.
Resources
https://www.fixr.com/costs/piano-moving#piano-moving-equipment
https://www.allianceremovals.co.uk/piano-removals/
https://www.pianologistics.co.uk/piano-moving-price-match/
https://www.uship.com/uk/piano-removals/