4 Easy Steps To Declutter Your Home (And Its Advantages)
Most of us decide to declutter our homes and get rid of unwanted and unused things at one point or another. But this seems like a mountain of work to do, and we end up wondering where to start and what to do, or we postpone it until next time. I did some research and wrote this article to understand how do I declutter my home – without feeling overwhelmed.
There are many techniques to declutter your home. Most of them have one thing in common. That is to start small. Don't try to declutter your whole house at once. You should:
Start with one room or area at a time.
Work for only a short while each day.
Divide the clutter into different categories
Using any of these techniques makes you feel less anxious to start decluttering your home, and your chance of success will be better. There are many benefits to decluttering, and there are just as many tips and tricks to decluttering your home with ease.
Different Techniques To Declutter Your Home
There are many different methods to use for decluttering your home. All the methods have you starting in one room and making your way through the house, room by room. You might find that some of them suit you better than others, or you may want to use these tips in combination. Here are a few simple tips and ideas to get you started.
1. A Checklist For Decluttering Your Home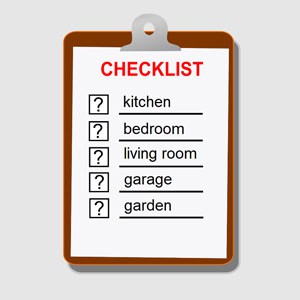 Some people love making checklists to track what has been done and what is still waiting to be done.
Having a checklist of all the areas in your house that you want to declutter will not only help you to focus, but it will also be rewarding to see your progress as you can check areas off the list as you finish them. Attaching dates to certain rooms will also help keep you focused and on track.
Just be sure to make the checklist realistic. The best way to declutter your house is by having realistic goals and not pressuring yourself to do too much at once. Having an unrealistic checklist or unrealistic dates will not help you finish faster but will leave you feeling hopeless.
2. Use Different Category Boxes To Declutter Your Home
Another method calls for having five different boxes to put things in when decluttering. Doing so will keep your decluttering organized and result in less cleaning and sorting time when you are done.
One box would be for things that you would like to donate. This could be anything from clothes, to books, to toys.
Another box is intended for things you want to keep but that need some TLC., such as cleaning or mending them.
The third box is for trash. These include things that you don't want to keep but are not suitable for donation or anything you would normally throw away.
The fourth box is for things you can recycle, such as glass, paper, and plastic.
The final box is for things that you want to keep. They don't need any mending or alterations and must be put in the right place.
Using boxes is a great tip because by having these boxes for every room in the house, you can easily sort out the entire house in an easy way. You will already have a recycling and donation box by the end of your decluttering journey, and the trash will already be out of the way.
3. The 12-12-12 Method For Decluttering Your Home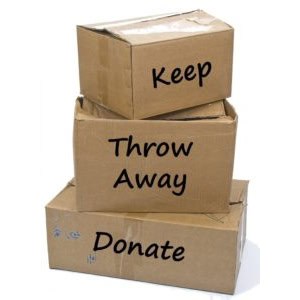 This method works by finding 12 things to keep, 12 to donate, and 12 to throw away. Once you have found 12 items for each category, you stop decluttering and proceed another day.
The 12-12-12 method is ideal for people who don't have much time or get overwhelmed easily, as it does not take much time or commitment. You don't have to commit to doing an entire room in one go.
Having category boxes for this method would be great, too, because you can add to the boxes as you declutter, and you don't have any additional sorting to do afterward.
If this method takes too much time, you can start by decluttering for five minutes a day. You can then work systematically through the house, room by room, without feeling pressure to do too much at once.
4. Take Before And After Photos When Decluttering Your Home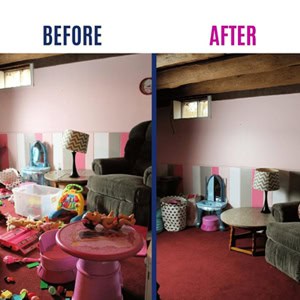 Many people take before and after photos when trying to lose weight or take care of their skin. But you can do the same when decluttering too.
Taking a before and after photo when decluttering your first room will serve as a great inspiration for the rest of the house as you will be able to see what you have accomplished. It will also help prevent you from cluttering things again because you will remember the hard work it took to get it organized.
Sharing your experience on social media will inspire others and keep you accountable for sticking to the program. It is nice to reflect on the task you set up and say that you accomplished it.
Start Decluttering In the Rooms You Use The Most
Starting to declutter in the house rooms you mostly use will help you see the progress you have made. By starting in a room you hardly use, such as the guest bedroom, or attic, you will not feel as accomplished because you will not be able to see the results of your hard work.
Starting the decluttering in the rooms you use the most, such as the living room, kitchen, or main bedroom will have an immediate and rewarding effect on your decluttering process. You will feel inspired to continue doing the rest of the house.
The Advantages Of Decluttering Your Home
Here are some of the advantages of decluttering your home.
1. Your Home Is Easier To Clean Once It Has Been Decluttered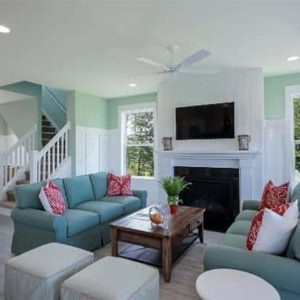 If you have a bunch of unnecessary stuff standing around in your house, it not only looks messy, but it is also more difficult to clean. You will spend more time moving things around and less time cleaning your home. While you are decluttering, you can also take this time to do some spring cleaning.
After decluttering your home, it will be easier to clean the floors and surfaces quickly because you won't need to move as many things around.


2. You Will Feel Calmer In Your Home After Decluttering It
Evidence has shown that people feel calmer in a clean and uncluttered space. Clutter not only makes us feel anxious, but it can also cause other problems.
Having a clutter-free home can help prevent this problem. You will be able to rest assured, knowing where all your important documentation is. You may even find some important things you have been looking for while decluttering your home.
3. Decluttering Your Home Can Help You Know Yourself Better
This statement might seem very philosophical, but when you declutter your space, you get to see how you have changed over time. You consider the cluttered items you once used, like the snowboard in the back of the shed or the elliptical machine that now acts as a coat rack.
4. You Can Make Some Money By Decluttering Your Home
While reminiscing about the good old days of surfing and snowboarding, you might decide to sell some of the clutter you no longer use. Snowboards, bicycles, air fryers, and fitness equipment are things that you can easily sell.
5. You Can Help Others By Decluttering Your Home
You may not be able or willing to sell some of your clutter. You can donate these things to charities, orphanages, or shelters to help improve the lives of others. You can donate children's toys, clothes, kitchenware, books, and stationery.
Conclusion
There are many ways of going about decluttering your home. The most important thing to keep in mind is to take it step by step and room by room. That way, you won't get overwhelmed and quit the decluttering process.
Decluttering your home can be an extremely rewarding thing to do and will lead to a feeling of calmness and order in your home.
If you are ready for your move, get a free quote and move with Transport Executive.
References
https://www.becomingminimalist.com/creative-ways-to-declutter/
https://www.mydomaine.com/tips-for-decluttering
https://www.thespruce.com/decluttering-your-entire-home-2648002