Making Your Student Move Easier with Professional Movers
Ever thought about how the shift from your parents' snug home to a bustling student accommodation can be less of a Herculean task? How do you safely transport that treasured vinyl collection, or those delicate keepsakes mum insists on sending with you?
The answer is simple – hiring a man and van for student moving. This savvy move doesn't just lighten the load but also saves precious time, leaving more room for those last-minute goodbyes.
Benefits of hiring a man and van for student moving are plentiful. It's like having an extra pair of hands, one experienced in navigating narrow lanes and tight stairwells; A partner who ensures not only efficient packing but secure transportation too.
Why struggle with hefty boxes when expert help is just a stone's throw away? Let's dive deeper into this… it's time to get started!
Table of Contents:
Understanding the Benefits of Hiring a Man and Van Service for Student Moves
Moving house can be a stressful task, especially when you're juggling studies. But, what if I told you that hiring a man and van service could make this process easier? You may assume it's simply about economizing or expediting – however, there's more to it than that.
The Role of Professional Movers in Ensuring a Smooth Move
A professional mover isn't just someone with strong arms. They know how to handle belongings safely, reducing the risk of damage during transit. And let's face it: as students we often have fragile items like laptops or musical instruments which need special care.
But safety is not only about avoiding breakages. Imagine trying to lift heavy items such as furniture on your own – sounds risky right? With professionals from removal companies at your side, moving house becomes less daunting.
The Versatility of Man and Van Services
If you've ever tried renting a self-drive van for student moves, you'd understand how tricky navigating unfamiliar roads can be. A man with his own van saves us from this hassle because they are familiar with various routes across cities – talk about convenience.
This versatility extends beyond mere driving too; whether its office removals or shifting stuff between student digs – these services cater to all needs while adhering strictly to their privacy policy.
In essence, working with student movers means getting help tailored specifically towards our requirements without compromising security or comfort.
Key Takeaway: Student moving is more than just a change of address. With the help of professional movers, it's about ensuring your belongings are handled safely and making sure you're saving both time and money. But don't forget, hiring a man with his own van isn't just convenient – it offers tailored solutions for all your removal needs without compromising on comfort or security.
Additional Services Offered by Man and Van Companies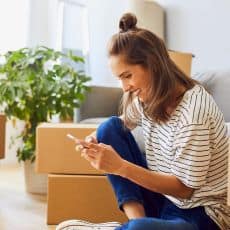 Man and van companies do more than just move your stuff. They offer a range of additional services to make the student moving process smoother. Investigate some of these extras.
Understanding the Cost Dynamics of Student Moving Services
The cost for student moving services can vary depending on several factors. The distance between old digs and new ones is one element, as well as how much stuff you've got to shift. But did you know that difficulty level also plays a part? For example, carrying heavy items up multiple flights of stairs could increase costs.
A good tip here is to be upfront with potential movers about all aspects of your move. This way, they can give an accurate quote before starting work – no nasty surprises.
Tips for Saving Money on Student Moves
If cash flow is tight (as it often is for students), there are ways to save money when hiring professional removals service providers like man and van companies.
Compare Rates: Different companies may have different rates or pricing structures so shop around before making a decision.
Hire in Advance: It might be cheaper if you hire their service well ahead rather than leaving it till last minute.
Pack Yourself: Some removals companies charge extra for packing services while others include this in their base price.
Here's another link, which provides even more handy tips on saving money during house moves.
So next time when looking at student housing options, consider these factors and choose a man and van hire service that best suits your needs. Once you've arrived at your new place, make sure to save some of your budget for a celebratory drink.
Key Takeaway: Man and van services offer more than just moving. They help make student relocations smoother with a range of add-ons. The cost can vary, influenced by distance, quantity of items and difficulty level. To save money, be upfront about your move details for an accurate quote, compare rates between companies, book in advance and consider packing yourself.
Why Choose a Professional Moving Company Over Self-Drive Van Hire?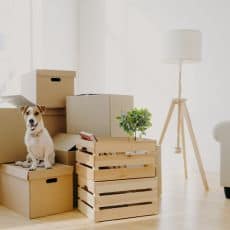 When it comes to student moving, you might think self-drive van hire is the way to go. But have you considered the benefits of hiring a professional moving company instead? Considering these two options reveals more than just what's on the surface.
The Role of Insurance in Protecting Your Belongings
A significant advantage that professional services hold over self-drive vans revolves around insurance. When using professional movers, your belongings are typically covered under their insurance policy during transit. This means if something goes wrong and items get damaged, there's financial coverage available.
In contrast, with a self-drive van, you're solely responsible for any mishaps that occur while handling or transporting your stuff. Any damages will be coming straight out of your pocket – not ideal when trying to keep costs down as a student.
The Benefit of Expertise and Convenience
Moving can be stressful at the best times; juggling packing boxes whilst studying for exams doesn't make things easier. That's where expert help makes all the difference.
Hiring professionals saves time because they know how to efficiently pack and load up even oddly-shaped or heavy items – an expertise gained from years on the job.
Fancy navigating narrow city streets in an unfamiliar vehicle? Didn't think so. By leaving transportation logistics up to experienced drivers who know their way around East London like back of hand (or anywhere else), stress levels reduce drastically too.
Risk Mitigation During Transit
Professional moving companies are experienced in handling all types of items, from fragile to heavy. They're trained to move your belongings with care and have the right equipment for secure transportation.
With a self-drive van, it's on you to figure out how best to pack and secure everything. And let's face it; YouTube tutorials can only teach so much about safely transporting that heirloom mirror or bulky wardrobe.
Bottom line, pro movers are here to make your move stress-free – a real lifesaver in the chaos of student life. So when it's time for another student pad shuffle, keep these tips in mind before jumping right in.
Key Takeaway: As a student on the move, getting pros to handle your stuff can be a real game changer. They don't just cover your gear under their insurance, but also save you heaps of time and cut down stress with their top-notch packing skills. You won't have to sweat over hauling delicate or hefty items yourself – giving you extra bandwidth to zero in on your studies.
A Quick Guide to Moving into Student Digs
Moving can be an intimidating prospect, but with the right aid it's much simpler. When moving into student digs, you need a plan that ensures all your belongings get there safe and sound.
Getting Your Belongings Packed Right
Packing is key in any move. Using sturdy cardboard boxes helps protect fragile items during transit. But don't just chuck everything in – sort by room or category for easy unpacking later on.
For heavy items like books, use smaller boxes so they're not too weighty to carry. Protect breakables with bubble wrap or newspaper and label each box clearly – this makes setting up your new place quicker.
Hiring the Right Man and Van Service
Finding a man van service suited to student moves can make all the difference. They'll have experience working with student movers under time pressure while ensuring every single item arrives undamaged at its destination.
The privacy policy of such companies often covers aspects such as respecting personal space and keeping information confidential – crucial when handling sensitive documents or valuables.
Scheduling Your Move Wisely
To avoid unnecessary stress, try booking your removal services well ahead of time; some local movers even offer discounts for early bookings. However, if you've left things till short notice, don't panic: many moving companies are flexible enough to accommodate last-minute requests.
Quick Tips:
If possible, choose mid-week days for your move as weekends tend to be busier (and sometimes more expensive).
Inquire about extra services offered by some companies like disassembly/assembly of furniture – it might save you lots of effort.
Don't forget to update your address with all relevant institutions.
Making Your New Digs Feel Like Home
Once you arrive, it's time to start making your new place feel like home. Tackle one room at a time and make it feel like home – because that's what this is now. Keep in mind, most student housing has rules about decorations, so always double-check.
Key Takeaway: Shifting to your new student pad doesn't have to be tough if you've got a solid plan and the right help. Remember, every detail counts – from packing your stuff in strong boxes for safety, arranging them by room for quick unpacking, to getting a pro man with van service onboard. If you can, book moving services ahead of time; but don't stress out too much as many offer last-minute assistance too. After settling in, kick-start turning it into your comfy space.
FAQs in Relation to Benefits of Hiring a Man and Van for Student Moving
What does a man with a van do?
A man with a van helps you move. They pack, load, transport, and unload your stuff safely from old digs to new.
Why do you need professional movers?
You need professional movers because they make shifting hassle-free. You save time, effort, and avoid the risk of damaging precious items.
Conclusion
Moving to your new student digs can be a daunting task. But with the right help, it's not only manageable but also less stressful.
Benefits of hiring a man and van for student moving are undeniable. They make transporting those hefty boxes seem like child's play, save time that could be better spent elsewhere, and ensure safety of your precious belongings too.
The versatility of these services is unmatched – they adapt as per your needs whether you're relocating within East London or moving further away.
Packing services offered by some companies come as an added bonus making them even more appealing! So remember, when faced with the next big move – why fret when expert assistance is just around the corner?
Looking For a Man and Van?
When you need an extra pair of hands to give your valuable a lift, hire Transport Executive to help you get you moving! Whether you need a one or two-man team, we have a network of courier drivers and reliable vans and packing services at your fingertips through our quick and easy booking process. Using our man and van courier service is often the ideal way to pack and deliver your large items and other goods.
Would you like us to provide you with a free quote, book a courier service job, or provide some friendly advice? We would love to hear from you! Call us at (44) 2033 184 720 to get a free quote!