What are the Best Places to Live in Spain?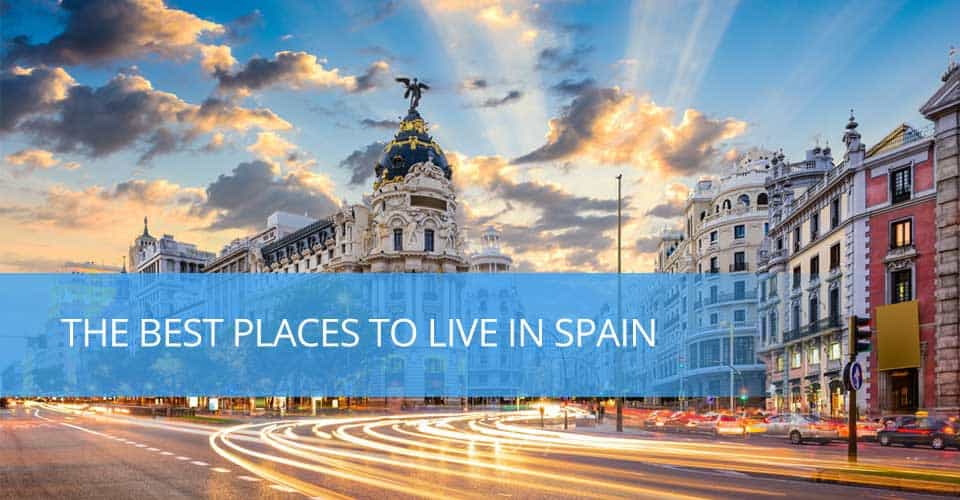 When you think of Spain, you might think of bright colours, delicious food, and lively celebrations–and the fact is, it's all those things and more. But if you're not familiar with Spain, where to live or stay long-term, you might not know where to start looking.
The first step to finding the best places to live in Spain is to know your basic wants and needs, and what you'd consider to be a good quality of life. For instance, if you have a family or are nearing retirement, your requirements may be much different than if you're a young professional who just entered the workforce.
It would be nice if you could talk to everyone living in Spain to get a consensus of which city or town is best, but choosing an area to live is subjective. The best area to live in Spain depends on you, which can feel empowering, but overwhelming. That's where it's helpful to have a list of Spanish cities and towns that are good places to start your search.
The 10 Best Places to Live in Spain
The first thing you want to do before moving is to decide what you're looking for in a town or city, and the cost of living. Spain has much to offer, but you have to choose a location you can comfortably afford. While you're looking through this list of the 10 best places to live in Spain, note the amenities to see if they align with your needs. Once you've narrowed down the places that appeal to you, you'll have a shortlist to explore.
1 – Madrid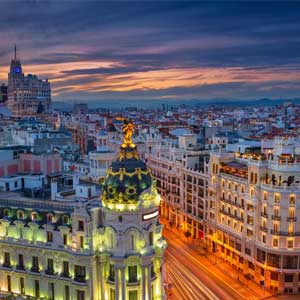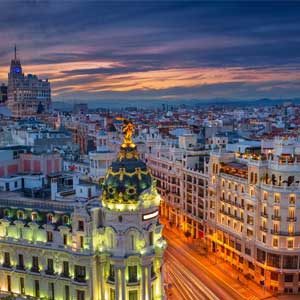 The affordable city of Madrid is the capital of Spain, so it shouldn't surprise you that it's a popular area. Madrid is full of friendly people and lively communities that welcome newcomers. Many expats are drawn to Madrid and Barcelona for the many communities they can be part of. The food is top-notch, and the nightlife and entertainment are enough to keep Madrid residents of all ages busy.
Madrid has a thriving art scene, and when you're ready to enjoy some nature, the city has that too. Families can explore the parks and gardens scattered throughout the city, and parents will love the excellent education system.
2 – Barcelona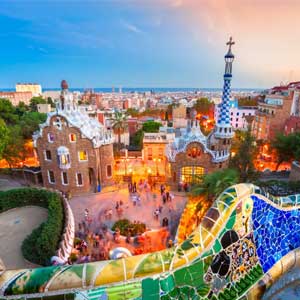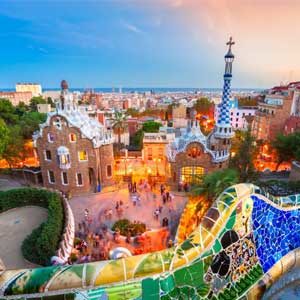 If you like buildings and architecture, you will love Barcelona. Located between the Mediterranean Sea and the Pyrenees Mountains, this historic coastal city has a beautiful skyline and a rich culture. For those who love the outdoors, Barcelona's place on the map ensures mild and consistent weather year-round.
Families will love the variety of outdoor sports, gorgeous parks, and breathtaking gardens to stay busy. If you like the beach, Barcelona has that too.
But Barcelona isn't just for families, like Madrid, there is an active nightlife there too. There are busy markets, restaurants, bars, and high-end boutiques to browse. To top it all off, Barcelona is a surprisingly affordable place to live, with a robust healthcare system and educational opportunities.
3 – Alicante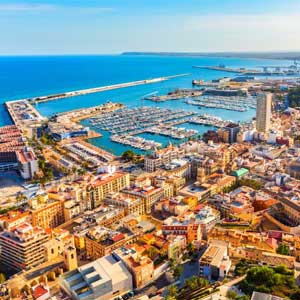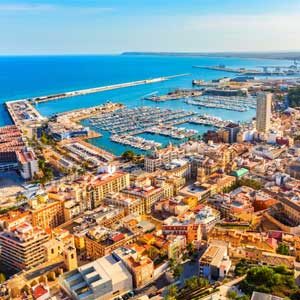 On the South-Eastern coast of Spain's Costa Blanca, you'll find the city of Alicante. If you love the beach, this city might be the perfect location for you to live in Spain. The summers are hot in this area, which makes for excellent beach weather, and it also makes Alicante a popular tourist area.
The people are welcoming, and there is a thriving English-speaking community with top-quality schools and a strong healthcare system. However, your time in Alicante isn't limited to the beach–there is a thriving nightlife for some adult fun after a hot day.
4 – San Sebastian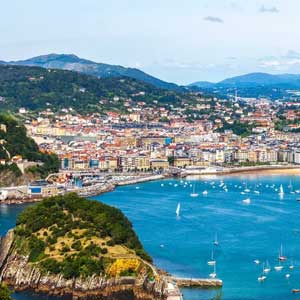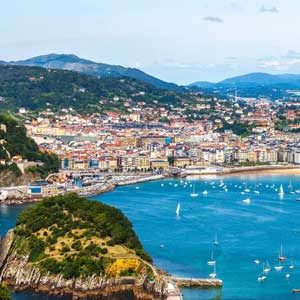 Moving to the Northern part of Spain, one will find San Sebastian in the Basque country. This city caters to a more lavish lifestyle with high-end shopping and trendy restaurants. The impressive architecture makes a beautiful backdrop for the long stretches of warm beaches.
The temperatures stay relatively high year-round, so if you want to live in cooler temperatures, San Sebastian isn't for you. But If you want to enjoy a bit of posh mixed with deep culture and friendly people, consider making this city your home.
5 – Malaga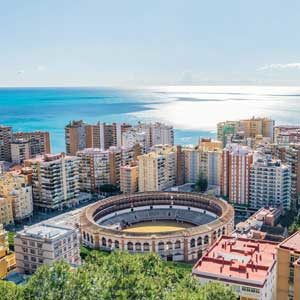 For those looking for a more culture-rich lifestyle, travel to the southern coast of Spain along the Mediterranean and find Malaga. It's one of the best places to live in Spain if you're into the arts. Not only does it have a nice climate all year round, but the city offers outstanding food and drinks with desirable beaches and a low cost of living.
Malaga holds celebrations and events throughout the year, while the art scene and museums add depth to its varied culture. In addition to the close-knit feel of the town and the pleasant weather, the community in Malaga focuses primarily on the outdoors.
6 – Valencia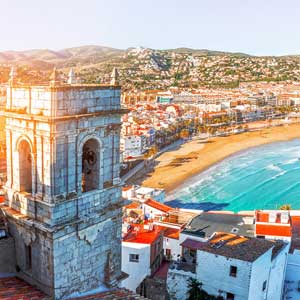 Settled between the river and the sea, Valencia has the best of both land and sea. The city is famous for its Paella, in addition to the fresh produce and local catches in its tasty restaurants.
If you're looking for interesting architecture, look no further than Valencia. The buildings are African-inspired, adding a Moorish touch to the city, and the variety of events attract a healthy number of tourists.
One can enjoy aquariums, museums, and festivals, made possible by the area's pleasant weather throughout the year. If you're a family with children, you'll appreciate the strong educational system and the highly-rated healthcare in Valencia.
7 – Seville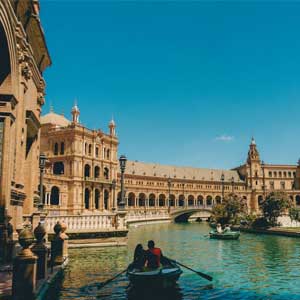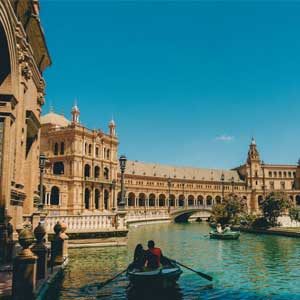 If a small romantic city in southern Spain appeals to you, Seville might be worth your consideration. The city is rich in local culture and history, with a relaxing atmosphere and charming vibe.
Bullfighting is popular in Seville, and the nightlife is active. If the night scene is something that appeals to you, you'll enjoy the variety of restaurants, bars, and pubs to connect with the community.
As in most other places in Spain, the architecture around the city and the excellent cuisine draw people to the area. If you love gothic or medieval scenery, you'll like this small city. In addition to that, Seville has many upscale shops and markets to ensure you never run out of things to do.
Keep in mind that Seville is one of the warmest cities in Spain, so if you're looking for cool weather, you might want to look somewhere else.
8 – Ibiza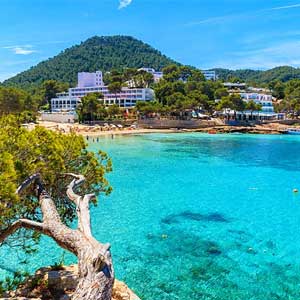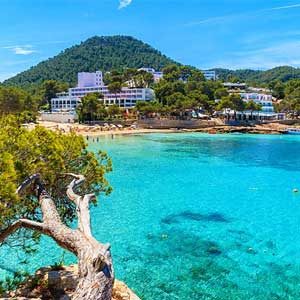 Ibiza is part of the Balearic Islands and has a reputation for catering to the party crowd, but there's a lot more to Ibiza than a lively nightlife. The island's natural beauty is picture-perfect, and the feel is peaceful and relaxing. There's also a thriving culture and plenty of history attached to Ibiza to learn from and explore.
One of the top reasons to move to Ibiza is the weather. The island has about 300 sunny days a year, which lets you take advantage of the beautiful beaches. It's also perfect weather for biking, hiking, horseback riding, and swimming.
The downside of Ibiza is the cost. Living on the island is expensive, and many people who live there don't work there. If you work remotely, Ibiza might be the getaway home for you to settle down with stress-free days and wild nights.
9 – Granada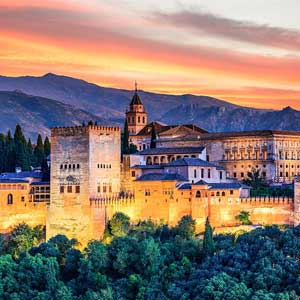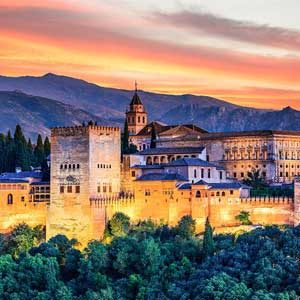 Another location rich in Moorish architecture is the city of Granada, with a perfect mix of old traditions and new trends. The food alone is worth a visit to the city, and affordable housing is enough temptation to lay down roots there.
Like much of Spain, the city of Granada has a lot to offer in its history, and many cultural events to keep anyone busy all year long.
The summers in Granada are hot, but the winters are cool, which gives the locals a nice break from the heat. This city in southern Spain also has some medieval gems to explore and an eclectic community to settle into.
10 – Tenerife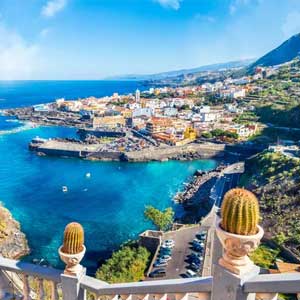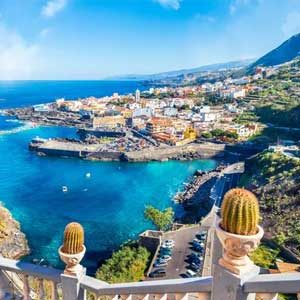 If islands and nightlife are more your speed, Tenerife might be a good fit for you. Tenerife is part of the Canary Islands off the coast of Africa, and there's always something to keep you busy.
It has a party-style nightlife and offers cultural entertainment throughout the year. The restaurants and bars give you a taste of the community, and the otherwise relaxing atmosphere fits any personality.
Part of the island appeals to tourists, and there are plenty of jobs in the tourist industry, but the cost of living is high. Whether you love national parks, the rain forest, or mountain terrain, life in Tenerife can accommodate.
The Best Place to Live: Spain
Spain is full of colour, life, and wonder, so it isn't easy to choose one place to settle down. The first thing you want to do is consider your needs and the needs of your family—and don't forget about your wants because they're important too.
Once you narrow your list, take a trip to Spain and spend some time in those areas. You can either drive or take public transport from Madrid to your selected location. Is the area easy to reach from the capital? Do you feel at home? Does the culture fit your lifestyle?
Ultimately, the best place to live in Spain is where you feel at home. The locations above are fantastic starting points in your search, but the decision is yours to make.
It's important to think about your circumstances, where you can afford to live, and the weather when choosing a home.
When you decide on a location, and you're ready to move to Madrid or enjoy a sunny beach city in Costa del Sol, be sure to contact our team at Transport Executive to get you there. Get a quote today. Call +44 20 3318 4720.
Related reviews: