What are the Best Places to Live in Somerset?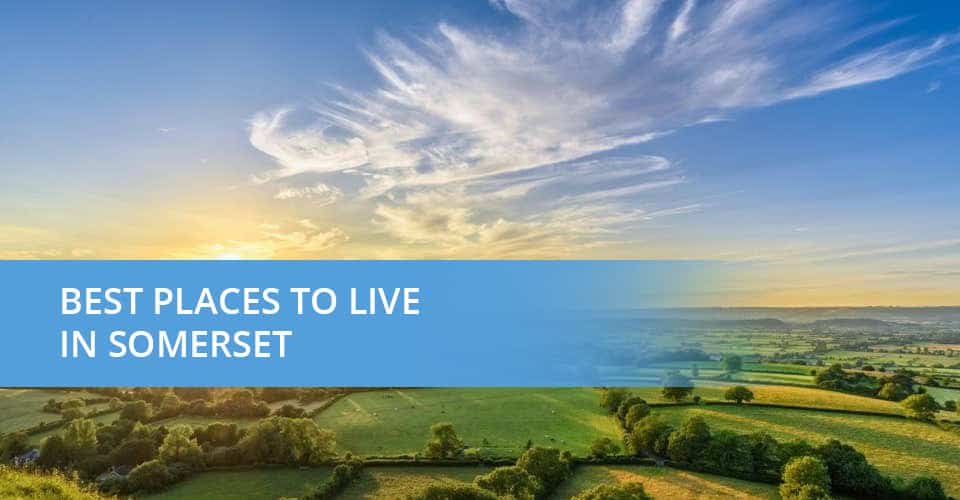 Somerset, has a rich history, beautiful landscapes and offers a slower pace of life for those of you considering moving. City pleasures aren't too far away here, including Bath, which is regularly featured in The Sunday Times best places to live list.  There are townhouses, cottages, and modernist homes here, good for all ages. Let's take a closer look at our list of the best places to live in Somerset. 
1. Frome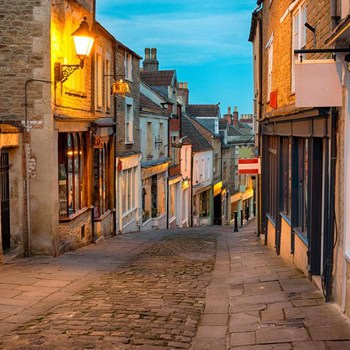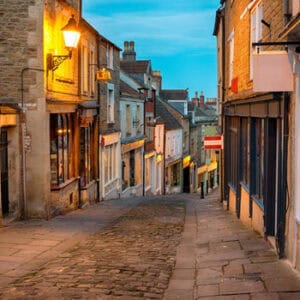 One of the Sunday Times Best Places To Live List in 2018, Frome is no longer a well-kept secret in Somerset. This small town with a big community spirit has artisan independent businesses and cafes aplenty. Frome is also host to the incredible Frome Independent market, which was named as a contributing factor to its rise on the Sunday Times list. Designers, artisans as well as food and drink are on offer when the market is open on the first Sunday of every month
Bath is about 25 minutes away and there are three direct trains a day to London, which will take you 2 hours. Beautiful 17th Century homes here are absolutely stunning, with the so-called Monmouth House, a Grade II listed Georgian townhouse with modern interiors being sold in the area, but that kind of listing isn't for everyone looking to move to Somerset. House prices average at £320,201, which is still quite a lot cheaper than the likes of Bath. 
2. Bear Flat, Bath
The World Heritage City of Bath is definitely a desirable place to live, and it tops our list as the most expensive place to live in Somerset, with house prices at an average of £475,498. Being only a 15-minute walk away from the City Centre, Bear Flat in Bath was selected at number two on The Sunday Times' best places to live list for 2020. The newspaper described this town as "Heaven" for young families and has close proximity to the city centre. It adds Bear Flat has a tight-knit community that runs regular social events, clean-ups, and activities for all. 
Georgian properties and listed buildings aren't difficult to come across in Bath, as well as the famous hot springs too. Only an hour and a half train journey from London, this is a great place for young professionals and families alike. 
3. Taunton
The first garden town in the South West, Taunton showcases their commitment to placing the environment and community at the heart of its development. Voted the happiest place to live in the South West in 2014 and ranking third overall in Great Britain, it's a place where the homes are well kept and the neighbors have time for each other. House prices here are a little high too, but much cheaper than the likes of Bath, with an average of £286,589 in 2019. Similar to Bath, it has a tonne of history too, historical moments are plentiful. 
The town has far higher levels of walking and cycling to work than the current national average, making shorter journeys rather enjoyable. If you have children that need schooling, the education system in Taunton is good for any level. Heathfield Community School and Trull Church of England VA Primary School both received a 5-star Ofsted rating.
4. Wells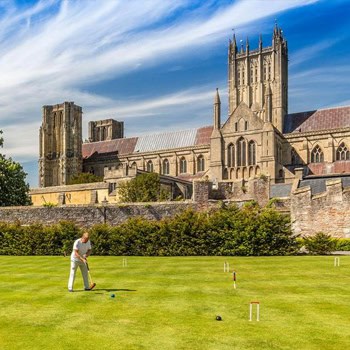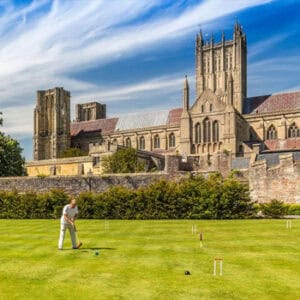 Wells is England's smallest city and is becoming a go-to place for food, theatre, and literary festivals. But it might be more popular for its appearance in many period dramas on TV and its Hollywood debut as the small-town backdrop in Hot Fuzz, as it is the directors' hometown. 
Schools here are good according to Ofsted, Primary schools such as St Cuthbert's CofE and St Joseph & St Teresa Catholic Primaries fared well in the test. There isn't a rail system here though, but it is a 45-minute drive to Bath and Bristol. The average house price for a detached is between  £280,000-£400,000.
5. Axbridge
With a population of little over 2,000, Axbridge is a small town in demand for people looking to move here. It is a charming market town at the foot of the Mendip Hills, three miles west of the Cheddar Gorge. The Mendip Hills to the North rises high above the town and provides incredible walking routes and look-out points with stunning views of Somerset. This town was once part of a Saxon defense system against Viking invaders, so history here runs deep. The local railway line is delightfully named 'The Strawberry Line' as it was once used to take fruit to London. 
Narrow streets and half-timbered buildings lean on each other in this picturesque town. There are a good number of independent shops, cafes and places to eat here too. Unfortunately, homes do not come cheap though, with the average property here coming in at £346,120.
One of the best places to live AND walk in the UK
For those looking for country life, then living in Somerset is for you. Take a walk in the oak woodlands of The Quantock Hills just west of Bridgewater, England's first Area of Outstanding Natural Beauty, designated in 1956, alongside The Blackdown Hills, a range of hills along the Somerset-Devon border, designated in 1991.  
FAQ
Where should I live in North Somerset?
Living in North Somerset. Weston-super-Mare harbor. Weston-super-Mare pier. Clevedon with its iconic Victorian pier and Portishead with its Marina are characterful coastal towns offering attractive properties and a high standard of living. Portishead. Clevedon Pier. …Priory Woods. Clevedon.
Where is the best place to live in the UK?
Using these metrics, which are considered important to Brits looking to relocate, the research found that Cumbria, Devon, Cornwall, and Durham were among the best places to live in the UK in 2021.