AnyVan Review – Our Personal Experience with the Company
If you're planning a house move and want the peace of mind knowing that all of your valuables will make it in one piece—from start to finish—brings, AnyVan might be the perfect choice. Founded by Angus Elphinstone in 2009, AnyVan has served over 2.8 million customers in the past ten years.
This review will detail our experience with this transport provider and delivery company and highlight why millions of people have used AnyVan for their moving needs.
AnyVan's pricing and stellar customer service set them a cut above other removal companies, along with the ability to track your van driver. This particular feature is exceptionally useful. It allows you to see exactly when you can expect your driver to arrive. There's always a lot of anxiety when you need to move, and knowing where your van driver is at all times is a nice touch that gives you a sense of control in a stressful time.
Even better, AnyVan also lets you nominate your friends, family, or neighbours for a free move. The company's goodwill gesture—Magic Van—extends to charities, community projects, and other causes.
Their Van Drivers Are Exceptionally Polite and Professional
What impressed us most about AnyVan wasn't their rates or professional service—it was their drivers. Their impressive customer services team was one of the primary reasons we felt the need to write this review.
AnyVan's drivers are punctual and very professional. They are polite and patient. We found they were willing to explain the details of the moving service in-depth. We had a lot of questions, and the van driver patiently answered every single one with a smile.
AnyVan's drivers were also right on time. We've had bad experiences with other moving companies (see our homepage) where the drivers didn't arrive when they were supposed to both on pickup and delivery. AnyVan's driver respected our time and showed that he took his job seriously.
Their Communication Was Excellent
Before getting started, the AnyVan team asked us how we wanted them to communicate with us. We told them that we would prefer texts, so they kept us up to date on the move's progress with routine text messages. This extra accountability was reassuring and made it clear to us that they were doing their job.
AnyVan also called before arriving to make sure that we were ready for them. They gave us a thirty-minute heads up before they arrived, well within the window that they said they would, so we had plenty of time to prepare.
It's rare to find a company that will communicate so readily with customers, especially since we had already paid for their services. Unfortunately, many moving companies drop the ball on their customer service once they have their payment. AnyVan is undoubtedly an exception to this rule!
We could tell that they were committed to providing the best customer service and that their mission was to ensure that we were fully satisfied from start to finish. AnyVan drivers are true professionals.
It's Easy to Set up an Appointment
No AnyVan review would be complete without details on how easy it was to set up an appointment. AnyVan made it a breeze to schedule an appointment online, and their helpful staff was on hand to make sure that we understood exactly what to expect.
The process is straight-forward and simple, and there is no guesswork involved. Since moving is a stressful and challenging process, we appreciated how easy it was to schedule our appointment with AnyVan.
They Offer Competitive Pricing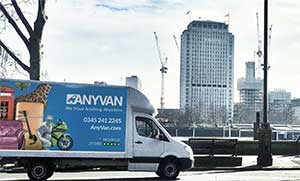 AnyVan is competitively priced, and there are no hidden fees. We were initially concerned that the relatively low price meant that we wouldn't get white-glove service, but our fears quickly disappeared once we realized precisely how professional the AnyVan team was.
The fact that there were no hidden fees was a welcome surprise. Often, in the service industry, there are small charges that add up in the long run. Like everything else with our AnyVan experience, getting the service quote was straight-forward and transparent.
You Can Trust Them with Sensitive Items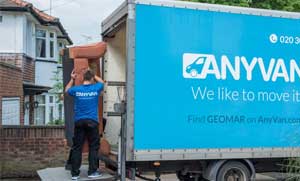 AnyVan excels at moving sensitive or valuable items, whether a grand piano or a priceless vase, from one spot to another. We felt like the company really cared about us as their customers. It is also a testament to the van drivers and the safety of their vehicles.
Usually, we would be a wreck thinking about valuable items breaking during a move, but AnyVan assured us that they were skilled in moving items, and we didn't have to worry about a thing. We also checked local AnyVan reviews and saw that customers held AnyVan in very high regard when it came to protecting valuable items.
Our experience with the AnyVan UK team was exceptional. Our precious cargo arrived in our new home safe and sound, with no hiccups along the way.
Their Tracking App Lets You Keep Track of Your Property
If you're like us, you want to know where your movers are at every minute. You don't want them to get lost, or worse, make off with your valuables. Although we don't like to think about it, thefts do happen.
AnyVan's commitment to reliable customer services extends to this understandable and common fear. They have a tracking app on all of their vans. You can see where your van driver is at every moment, and you never have to guess what's happening.
This aspect gave us tremendous peace of mind. We generally like to trust people to do the right thing, but we also believe in the importance of due diligence. In addition to telling us that our driver was on the right track, we also knew exactly when they would be arriving, and were able to prepare our home accordingly.
Thanks, AnyVan, for making sure we were comfortable throughout the entire process!
They Have Your Back
Perhaps most importantly, AnyVan has your back. They have customer service specialists on staff seven days a week and live chat available all-day every day. If you have a problem or question, you can get in touch with someone right away.
Most of us don't move very often, but moving is all that the team at AnyVan does. It's comforting to know that there is an expert on hand if you need advice. When one of their specialists didn't know the answer to something, they asked a superior and got back to us right away. It was comforting to see that they were on top of it.
We're not often moved to write reviews or leave comments on a review site, but AnyVan is an exception. They really made our move so seamless, easy, and safe. We felt like we were in good hands with them.
To sum up this review, AnyVan has our enthusiastic stamp of approval. We would recommend this removal company to anyone who needs a team of professional movers in their corner.