6 Unpacking Tips After You Moved House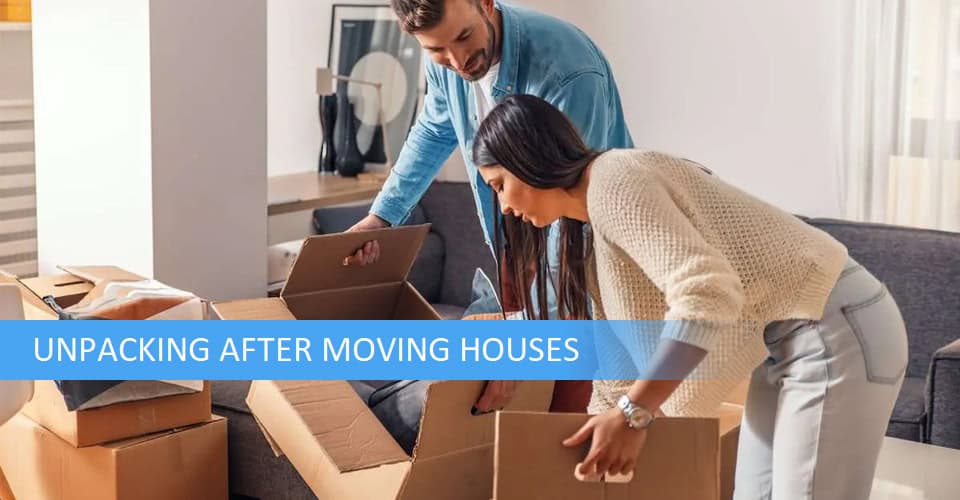 Moving is one of the most intense experiences without someone dying or being ill. Whether you are moving up the road or to a new country, the stuff still needs to be packed up and then unpacked. It can feel like a marathon, but nobody is handing on water and snacks while cheering you on. So are there ways to make it easier?
The key to unpacking after you move is planning ahead. If done correctly, the bulk can be finished in a day or two. Mark all boxes carefully, keep a list, and, if possible, have a general idea of where most of your stuff will go in the new place. Prioritize setting up kitchen and beds first.
The better you can plan before the move, the easier it will be to unpack and enjoy your life in your new home. This is even more essential if you are moving with small children. To help us provide you with the best advice, we consulted a family that's moved more than ten times, including up the road and twice internationally.
How To Unpack After Moving
When moving, the best motto comes from Lee Child's Jack Reacher novels, "Hope for the best, plan for the worst." Things will go wrong; you just don't know what yet. But it is going to be okay. Those maddening moments will make excellent stories to tell family and friends in another month.
You can do this. Even better, when those teeth-gritting incidents do happen, you'll easily regroup and still get the job done quickly because you planned ahead.
1. Label Your Packing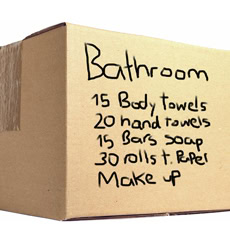 When you are getting ready to move, mark all your boxes. General labeling should include:
Box number
Room
General items
This should, ideally, be cross-referenced with an inventory or a list.
If possible, note where the items came from in the old place and where they are going in the new space. This is especially important when you have children that were sharing a room that will now have their own.
Sometimes people use towels, sheets, and other household linens as packing material. If you do this, add it to the label. For example:
Box 3
Old Kitchen
New Kitchen
Plates w/kid's bedding
2. Plan Where Things Belong
If you have access to the new place beforehand, go through the property and make notes.
Measure the spaces
Include how each room will be used, such as home office, baby's room, library
Examine drawers, cupboards, closets, storage and try to visualize what will go where
Some people take pictures and make videos to help them later visualize where things will go. This is also an excellent thing to have a friend or realtor do if you are arriving at a new home you've not seen in person.
You will save loads of time unpacking if you already know the top right drawer in the kitchen is for your cutlery, and the baking pans will go on the shelf under the oven. The biggest time suck is wandering around the rooms trying to find places for things, be it a bookshelf or your plates.
3. Pack Suitcases And Coolers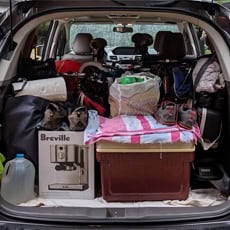 Movers lose stuff. You misplace things. Kids hide objects. Friends accidentally misread your handwriting and think "master bedroom" is "master's dudgeon" and shove the box with your bedding deep into the basement. And no, you are not going to find that box with your scissors, box cutters, first aid kit, and that helpful gadget just because you labeled it Box 1.
It happens. All of it.
So you need to pack suitcases and cooler boxes with the essentials to get you through the first few days until you find where your grandmother helpfully decided the box marked "underwear" is stashed. (Under guest bathroom sink, of course.)
If you take medication, it goes in these suitcases. The scissors and box cutters to open these boxes also go in these cases. Charging cables and adapters should also be kept close. Any toys or distractions you need for small children, pack them. Do not assume your TV hook-up or the internet will be ready.
Do not count on the movers showing up when they claim they will. Movers can and do show up a day late. Sometimes two. True story.
Make sure you have food, drinks, and cash at the ready. Assume your coffee pot will be busted, the oven won't work, and that your new place is thirty miles from civilization. And if it turns out that the oven works, the coffee pot is fine, and take-out is quick and easy, fabulous. But if they're not, that's okay too, because you prepared.
4. Having Small Children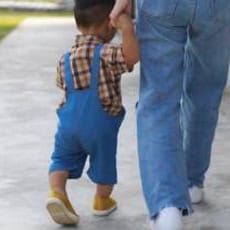 When you plan where things are going, select a room to stash your children while unpacking. If possible, keep it free of boxes, even if that means they spend the first night sleeping in your room. You want to be able to set them up in this empty space with blankets, toys you've kept from them for a good week, so the items are "new."
Moving with small children can be an accident waiting to happen. So find ways to keep them safe. If you have friends and relatives to watch them, that's wonderful. But sometimes it is you and you alone. If you can't screen off a room, use a travel cot or playpen, even if you normally don't use them.
The family we spoke to highly recommended using an Ergo if you have a baby. It keeps the baby safe and your hands-free until you can make some baby-proof spaces. Baby gates have to be found and put up, and strollers and playpens only hold kids for so long. Just keeping the baby on your back is a massive sanity saver.
5. Establish Zones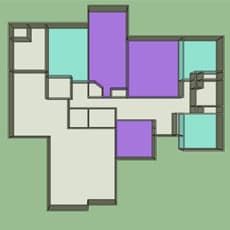 Try to establish temporary zones:
Trash
Empty boxes
Snack spot
Keys, wallet, and documents when not in pockets
First aid kit
Kids' safe area
I don't-know-deal-with-later zone
6. Priorities
When you start to unpack, go through things in order of importance. The kitchen is usually number one, along with setting up beds.
When unpacking the kitchen, try to open only one box at a time, starting with the most important. Once you reach boxes such as your great-grandmother's china that you use only once a year, leave it and move on to more important jobs.
Next, set up the beds. If all else fails, at least you can get some decent sleep.
After that, the next two biggest needs are bathroom and bedroom essentials. Again, the more you can do this box by box, using your inventory to rank priorities, the less stressful the experience.  It will also reduce the likelihood of things being lost and you becoming overwhelmed.
If you are having trouble organizing some items due to lack of shelving, dividers, or cubby holes, make use of empty moving boxes or shoe boxes to keep things easy to find until a better plan can be made. If you have the stuff, do it now. Save you from having to do it twice.
If you are not moving alone, but have a partner or children that are beyond the toddler years, make them do their bit. Kids can start unpacking their rooms. If you have concerns, make labels from post-it notes to provide direction, such as "sock drawer."
Leave the decorating until the room is mostly unpacked. If there is already a hook for that painting going in the living room, excellent, hang it up out of the way. But otherwise, leave these details until after the bulk of the unpacking is done. It will be easier to know how you want things to look when most of the boxes are out of the way.
Meanwhile, your very last rooms to worry about should be the utility rooms: garage, mudroom, basement, garden shed. It might even be worth putting some personal touches around the main part of your home before tackling these useful but not immediately essential spaces.