Storage Containers Compared (Find Out Your Choices)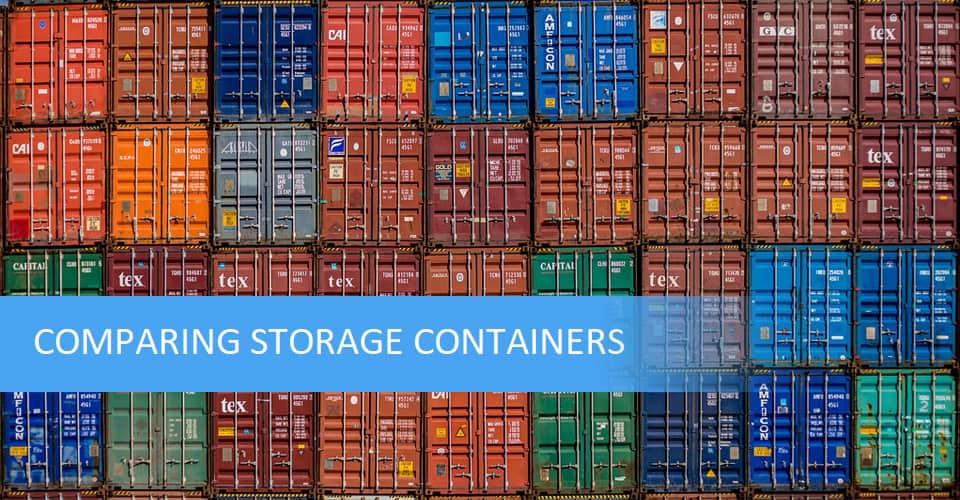 Whether you're moving, downsizing, or renovating, you may need to store your belongings away from your home for a while. That's where a storage container becomes a valuable option. In this post, we compare your choices for storage containers so you can make an informed decision.
Your options for storage containers are containers or warehouse self-storage facilities. Containers are more suitable if you don't plan on accessing your belongings often and cost less, whereas self-storage costs more for the same amount of storage but allows more regular access.
Numerous factors will affect what sort of storage container will fit your needs, so let's take a look at these so you can make an informed decision.
Your Options For Storage Containers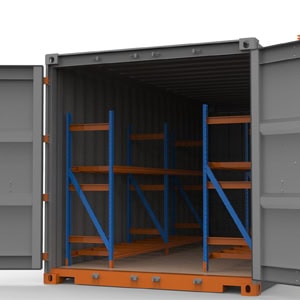 Containerized storage is the storage of your belongings in wooden or metal containers inside a warehouse or secure compound. Apart from you, only the staff have access to the containers.
Some container storage facilities are operated by removal companies, allowing you to use the same company for both services. Many container storage companies will come to your property, pack your belongings into a container, and transport it to their storage facility.
In this post, we distinguish between conventional containerized storage, which uses sealed boxes, and shipping containers, which offer you some of the benefits of self-storage units. You can think of these as a hybrid of the two types of storage.
Self-storage facilities typically consist of many individual units housed in a building. This building can either be a converted building or a modern, custom-built facility, with many of the latter located in industrial parks.
The units are sometimes on different floors, linked by corridors and lifts.
As the sole key holder, you are the only person who can access your belongings. However, you are responsible for packing and transporting your things, loading them into the unit, securing the unit with a padlock, and insuring your possessions.
Sizes Of Storage Containers Versus Self-Storage Units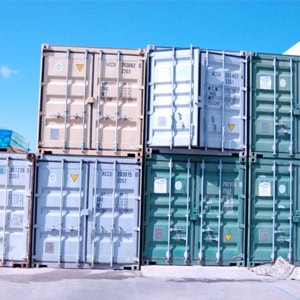 Containers are more limited in size, but you should be able to find something to fit your needs.
Storage companies in London offer containers in a few sizes, between about 35 sq ft and 50 sq ft. Such sizes are enough to hold the belongings from a small studio apartment. If you have more belongings, you can hire more containers.
Some companies offer self-storage in shipping containers. These are a standard width (8 ft) but vary in length. In a 20 ft shipping container, you will get 146 sq ft, whereas, in a 40 ft container, you will get 285 sq ft.
Depending on your needs, you may need to hire two such containers, or you may find that even one is more than you need.
Conventional self-storage units come in various sizes, providing storage for everyone from students to large businesses. Units vary from around 10 sq ft, suitable only for a few boxes, to larger than 500 sq ft, ideal for an entire household or small business to store belongings or goods.
Accessibility Of Container Storage Versus Self-Storage
If you will need to access your possessions regularly, you will want to choose a more accessible storage option.
Self-storage facilities are the clear winner on this point, with many offering access seven days a week and some offering 24/7 access to your belongings. Facilities are staffed and managed.
In contrast, container-based long-term storage generally restricts access. Companies will usually require you to give notice that you wish to access your belongings.
In terms of accessibility, container storage facilities are also thinner on the ground. You will probably have to drive further to get to the facility than you will have to go to a self-storage facility.
Self-storage facilities that offer storage in shipping containers, as opposed to conventional self-storage, come out on top for getting your goods in and out of the facility, allowing you to drive right up to your shipping container for easy loading and unloading.
In contrast, conventional self-storage facilities will require you to take a trolley along corridors and possibly up lifts to get to your storage unit.
Security Of Containers Versus Self-Storage Units
Container storage involves the storage company locking up the storage boxes in their facilities under 24/7 CCTV surveillance. Only staff members can access them, and the contents (your belongings) are often inventoried.
In other words, with container storage, you get excellent security.
However, this is a trade-off for accessibility, and if you need to access your goods more often, you may wish to go for self-storage instead.
Self-storage companies vary a lot in their security policies. Some offer 24/7 CCTV surveillance, just like the container storage companies, while allowing easy access to your belongings. Others will even require you to bring your lock to secure the unit you're hiring.
If you are using self-storage with such a facility, be proactive about security.
Cost Of Containers Versus Self-Storage Units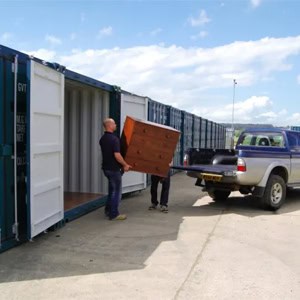 It is cheaper to store in storage containers than self-storage, whether conventional units or shipping containers.
The numerous additional costs to companies associated with self-storage, such as setting up the building and paying for the constant staffing, means that more cost is passed onto you as the customer.
The physical accessibility of their set-ups also results in self-storage facilities often using only 60-65% of the total warehouse space available. In contrast, container storage makes more efficient use of space (up to 90% of total warehouse space).
Self-storage companies that use shipping containers can reduce some of these disadvantages and pass the saving onto their customers.
For a rough cost comparison, it is around 50% cheaper to hire a container than to rent a self-storage unit of the same size.
For longer-term storage, businesses, or people moving abroad, container storage is a better option. If you think you will need it, look out for a company that allows you to open your container to add more items before resealing it (for a small additional fee).
Considering the initial cost of construction or conversion, the higher ongoing running costs, and the need for additional space to allow access, you can often end up paying twice or even three times as much to store your goods!
When comparing prices, be aware that self-storage companies sometimes offer a discounted introductory period, after which prices rise significantly. This factor also makes container storage a better option for longer-term storage.
Conclusion
Containers are the best option if you want to store your possessions for an extended period, don't need to access them much, and are looking for a more affordable solution.
On the other hand, consider self-storage if you only have a few goods and don't need much storage space or need to access them often.
Read more articles like this here at Transport Executive.
References
https://www.approvedindex.co.uk/storage-containers/shipping-containers
https://www.youtube.com/watch?v=29CZUr4P3pA
https://www.youtube.com/watch?v=xfy69ZBSV_0
https://www.youtube.com/watch?v=XdWg8_9qTqI
https://www.youtube.com/watch?v=jydC2GesH9M