What are the Best Places to Live in the UK?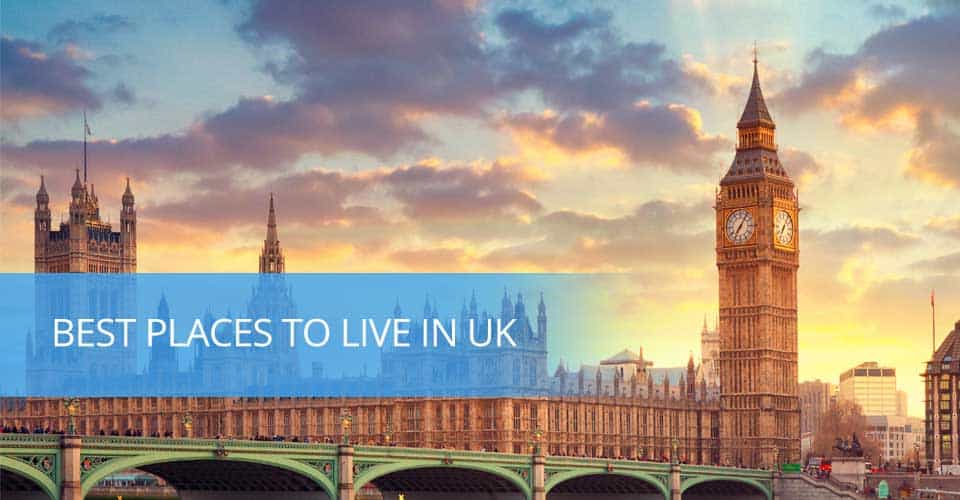 Moving to the UK is an exciting adventure, but if you aren't familiar with the country, you might not know where to settle down. Like any other part of the world, choosing the best place to live is an important decision. The more you learn about the cities from people who live there, the better chance you have of picking the best option for you and your family.
That's why a list of the best places to live in the UK is an invaluable tool, whether you're moving from another country or moving within the UK as a citizen. Obviously, if you're an expat, you want to do your own research on living in the UK. Moving to the United Kingdom from another country involves more than picking a city. You need to consider factors like salary ranges, education, and economic opportunities, among others.
However, if the first question on your list is, "where is the best place to live in the UK?" We've got you covered.
Top 10 Places to Live in the UK
Although there are more than ten great places to live in the UK, this list highlights the top runners. Whether you'd prefer a laid-back town in the countryside or a bustling city, there's plenty of places for you to settle down in the UK. All you have to do is decide what you want and explore the possibilities.
1 – Altrincham, Greater Manchester, England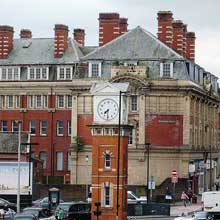 Altrincham is a popular commuter town with a strong middle-class presence, although the cost of living is a bit higher than in some other parts of the UK. The area is rich in culture from its historical landmarks, from the Old Market Place and conservation areas to its famed parks and annual music festival.
If you love sports, Altrincham holds a reputation for superior football teams and FA Cup matches. They also have their own ice hockey and rugby teams.
Families will be happy to know that the education system in Altrincham is thriving, and the town has beautiful churches from the medieval period. There is plenty to see and do in this historic and culturally rich town.
Related Services:
2 – Horsham, South East England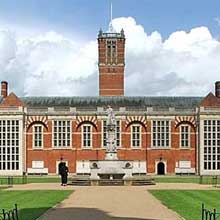 If countrysides and market towns are something you're looking for, Horsham in England might be just the spot to settle down. They have good schools, and the area is very affordable.  Your biggest problem might be finding an open rental or house for sale! The countryside in Horsham is a sight to behold, and the busy markets give it a small-town feel.
The sporting culture is also alive and well in Horsham, with clubs for cricket, rugby, football, squash, and running. Fitness gurus and families will love the impressive array of activities.
They have retail parks for shopping and fresh markets you can browse with your family to buy local art, crafts, plants, flowers, clothes, fruits, and vegetables.
Related Services:
3 – Hertford, East Hertfordshire, England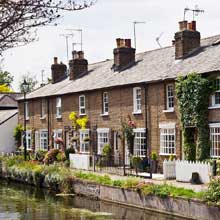 Located in East Hertfordshire, which ranked number one in the 2021 Halifax Quality of Life Survey, Hertford is a rural town in the East of England with a steadily growing population, in part thanks to its high average life expectancy.
It's an exciting mixture of history and modern living, make it a popular place to live and work. The town also boasts a busy marketplace and superior dining, cultural attractions, and yearly festivals.
The beautiful countryside makes you feel like you're in a completely different part of the country. Whether you prefer bustling cities or leisurely countryside, East Hertfordshire has something for you.
The area also attracts many businesses because of the abundant workforce, making it a hot spot for bright minds and successful futures.
Related Services:
4 – Victoria Park, London, England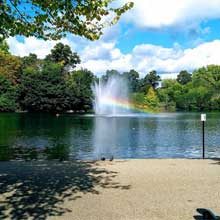 Victoria Park is in the oldest part of London with acres of greenery surrounding the city. It's a relatively modern area with some history peppered in for an interesting cross-cultural experience. The market in Victoria Park in London offers food from a wide variety of local vendors, which you can enjoy by the neighbouring Regent's and Hertford Union Canals.
If you want a village feel while still enjoying all that London has to offer, Victoria Park might be for you. There are festivals to enjoy in the summer, a lot of playgrounds for families, sporting events, and picnic areas to drink in the London scenery.
Related Services:
5 – Bollington, Cheshire, England
Bollington, like many other top places to live in the United Kingdom, has the best of both worlds. The countryside is beautiful, and you're less than 20 minutes away from vibrant community villages and market towns.
The draw of the countryside of Bollington includes forests and national parks, which is relaxing for the whole family. But if action is more your style, the Bollington village communities are home to bands, groups, festivals, shops, and plenty of social events to keep you busy.
Housing is affordable but more expensive than some of the locations on our list, and the commute is farther than other places in the UK. But the beauty and diversity of the area make it worthy of consideration.
6 – Leith, Edinburgh, Scotland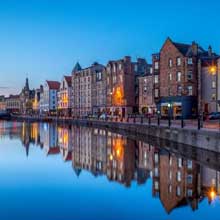 Leith usually attracts a younger crowd with its expansive art scene, trendy restaurants, and popular bars, but this quirky area of Edinburgh has something for everyone. Housing in Leith is widely available and accommodating to a wide range of budgets.
For television and film buffs, Leith is also a popular location for filming. Avengers: Infinity War filmed on location in the area, and it has the potential as a hot spot for other film productions.
Catering to people of all ages, Leith holds several festivals a year and is rich in history and culture. Plus, its location at the mouth of the Water of Leith is gorgeous year-round.
Related Services:
7 – Cheltenham, Gloucestershire, England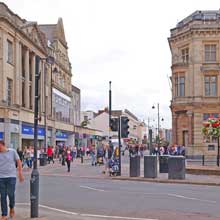 If you're looking for the best place to live in the UK and have a family, look no further than Cheltenham. The town has a strong focus on its education system and is seventh in the world for International Baccalaureate results.
In addition, each year in the spring, the festival season starts and runs through until the fall. These festivals include interests like jazz, horse racing, music, literature, and science.
Cheltenham is also home to a large aerospace company and international clothing brand headquarters, so there are plenty of job opportunities. If neither of those companies interests you, Birmingham and Bristol are an easy commute from this interesting and lively town.
Related Services:
8 – Narberth, Pembrokeshire, Wales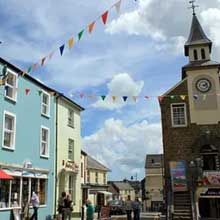 If you enjoy the small things in life, the lively town of Narberth, Pembrokeshire is one of the best areas to explore. Narberth is rich in culture and history, with an active array of antique, vintage, and craft outlets peppering the town. The castle ruins are an interesting attraction for all ages, and the green outdoors gives a romantic feel to the town's countryside.
Food in Narberth is a focal point. Deli's use fresh and local produce, while cafes, restaurants, and pubs add a sense of community and style for residents and visitors. For families, Narberth has impressive schools, job opportunities, and quality of life, and housing is affordable and accessible for all income levels.
9 – Orkney Islands, Scotland
Orkney is a group of 70 individual islands off the north-east coast of Scotland. About 20 of those islands are inhabited. They are rich in wildlife, history, and beauty, and hold archaeological sites for tourists to explore Neolithic discoveries spanning 10,000 years.
Families considering the Orkney Islands will also appreciate the range of educational opportunities, low crime rates, light traffic, and pleasant weather. In fact, the education system hit Great Britain's top 100 best state school list.
10 – Rugby, West Midlands, England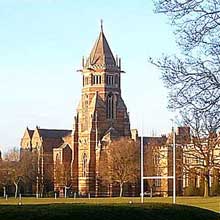 As one can probably tell by the name, Rugby, Warwickshire in West Midlands is home to the sport of rugby. However, the town has more to offer than sports. It has a wide variety of shops and restaurants for entertainment, and a farmers' market that offers fresh and local produce.
It's also the second town on our list that performed well in the 2021 Halifax Quality of Life Survey. Rugby came in 15th—one of five towns in West Midlands to rank in the top 50 best places to live in the United Kingdom.
This fast-growing gem has new job opportunities and housing, with strong commuter links to surrounding towns. Rugby is home to world-class secondary education and global companies in England like GAP and Rolls Royce.
Families can also enjoy Rugby's many parks and attractions while joining in on local leisurely activities involving art, fitness, and local culture.
Related Services:
Choose the Best Place for You
When deciding where to move, think about your needs. If possible, visit the area and spend some time there to get a feel for the people and the place. You might find that what you see on paper differs from what you experience, and it might help you make a better decision for you and your family.
You not only want to keep the sights and local attractions in mind but also current and future job markets, cost of living, and growth possibilities as well. If you have children, think about education, family-friendly activities, and if the town can interest your kids as they grow.
The 2021 Halifax Quality of Life Rankings are an excellent resource to find a snapshot of these elements and more, including everything from average life expectancy to satisfaction.
The best places to live in the United Kingdom will vary from person to person—only you can crown a winner—but we hope this list has helped you narrow down your shortlist. When you're ready to make the move, whether to Yorkshire and the Humber, East Hertfordshire, West Midlands, or anywhere in between, our team at Transport Executive can help. Call us today on +44 20 3318 4720.