What are the Best Places to Live in Ireland?
Do you dream of living in Ireland? A land of stunning nature, rich culture, and numerous golf courses, Ireland strikes a chord in the hearts of many, from tourists to people who plan to settle there permanently.
If you find yourself asking, what's the best place to live in Ireland? Hopefully, this list will help you decide.
Top Places to Live in Ireland
1. Dublin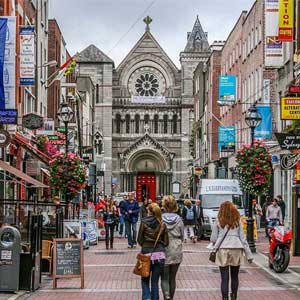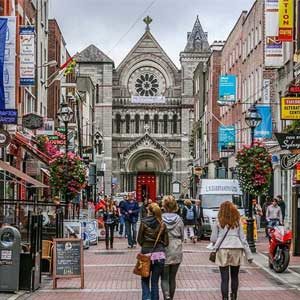 Located on the east coast of Ireland, at the mouth of River Liffey, Dublin is an ancient city established by the Gales around the 7th century AD and later expanded by Norse settlers.
While Dublin has a relatively high cost of living and is crowded by Irish city standards, living in the capital has its benefits. Ireland's cultural and economic centre offers thriving industries, top-rate universities, and many entertainment options, making it the best place to live for professionals and families with kids.
Its attractions include Dublin Castle, the city fortress dating from the 13th century, St. Patrick's Cathedral, the National Museum of Ireland, and Croke Park, the country's largest stadium.
Despite its big-city sophistication, Dublin is also relatively close to the countryside. Howth, a picturesque fishing village, is only 45 minutes away to the north, while Glendalough is just an hour to the south. When picking the best places to live in Dublin, consider choosing an area that lets you enjoy the best of the metropolis and the countryside.
2. Dalkey, County Dublin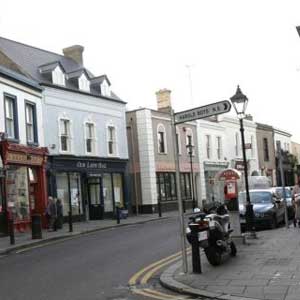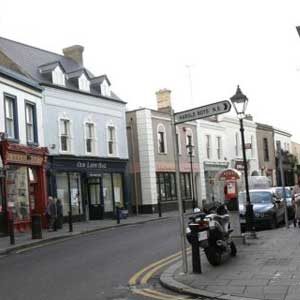 Dalkey, a southeastern seashore suburb of Dublin, is an excellent choice for those who want to live near the capital but would rather opt for a less crowded and expensive area. Dalkey Island, which gives the city its name, is located right next to the shore.
Like Dublin, Dalkey's history goes many centuries back. Founded as a Norse settlement, it became a thriving port town in the Middle Ages. Today, it is a popular seaside resort and a haven for wildlife that includes wild goats, seals, and multiple birds species.
Castle Street, Dalkey's bustling main street, is rich in shopping locations, pubs, and historical attractions such as churches and castles. The district is home to several well-known annual events, the Jazz Festival and Seafood Festival among them.
3. Kilkenny, County Kilkenny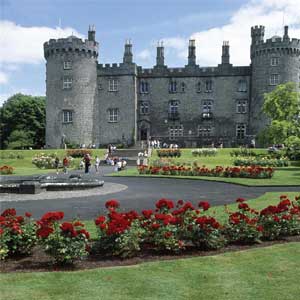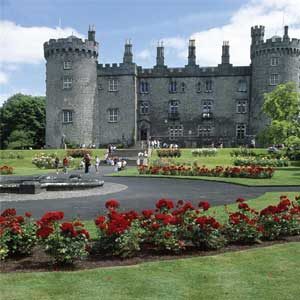 Kilkenny, a town in central Ireland, combines a convenient location and short commutes with many historical and tourist attractions. Built on the banks of the River Nore in the 6th century, Kilkenny offers breathtaking riverside views. The thriving local Belview Port is connected to global shipping routes.
House prices in Kilkenny are very competitive compared to Dublin. The town has all the facilities necessary for raising a family, including a wide array of schools and well-established healthcare services.
Tourists and residents alike will enjoy exploring the town's many historical buildings such as Kilkenny Castle and St. Cance's Cathedral, museums, art galleries, and theatres. It is also home to renowned festivals such as the Cat Laughs Comedy Festival, the Kilkenny Arts Festival, and the Yulefest.
4. Westport, Co. Mayo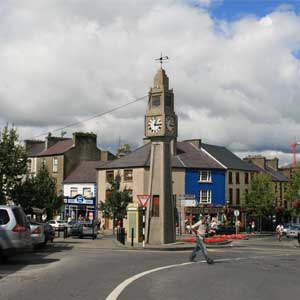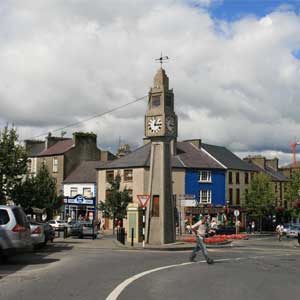 Located on the Clew Bay connecting to the Atlantic Ocean, Westport is one of the few planned towns in Ireland, with John Browne responsible for its 1780 design. The town centre, designed by William Leeson, displays elegant samples of Georgian architecture. The Quay, once a shipping port, now offers pubs, restaurants, and recreational fishing spots.
This little town in Co. Mayo, with a population of under 6,000, was shortlisted in The Irish Times Best Places to Live in Ireland competition and is featured in other similar rankings. This is thanks to Westport's combination of well-developed amenities, gorgeous scenery, strong community feel, and vast entertainment choices.
Those shopping for residential property in Westport are almost certain to fall in love with its charming detached houses, quaint cottages, and country homes.
5. Killarney, County Kerry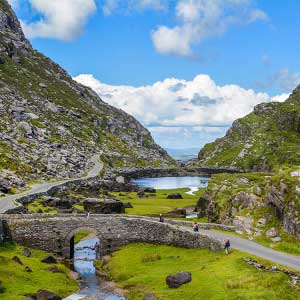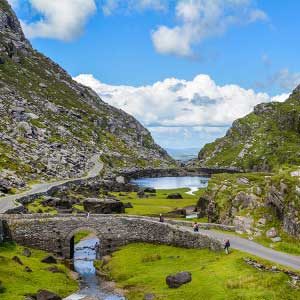 This southwest Ireland town with a population of under 15,000 attracts both tourists and people seeking a quiet place to live, most often for retirement. As it's a popular tourist destination, Killarney has a large selection of restaurants, hotels, and shops. The climate is relatively temperate, considering the latitude, thanks to the Gulf Stream.
Killarney has a rich heritage and many historical landmarks such as the Muckross Abbey, Innisfallen Island, and St. Mary's Church of Ireland. It's surrounded by the beautiful Killarney National Park and hosts annual events such as the Irish Folk Festival, the Killarney Beer Festival, and Killarney Walking and Cycling Festivals.
This lively, peaceful place has been shortlisted in The Irish Times Best Places to Live in Ireland competition. Local properties for sale include bungalows, detached family homes, beautiful Georgian style houses, and even remote cottages on farm acreage.
6. Kenmare, County Kerry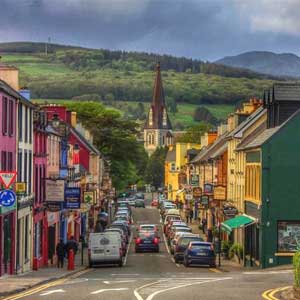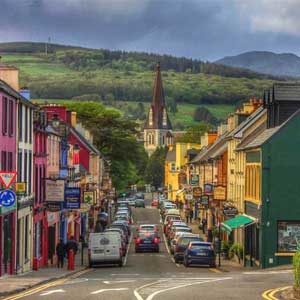 Kenmare is a small town with a population of just over 2,000. It's the best place to live in Ireland for anyone who wants a peaceful, retired life while still having enough attractions to keep busy.
Located at the head of Kenmare Bay, where the Roughty River flows into the sea, Kenmare is famous for its beautiful countryside, which attracts enthusiasts of horse riding and golf.
Kenmare offers a large selection of restaurants, hotels, bars, and cosy pubs. The old road from Kenmare to Killarney goes through Killarney National Park with its breathtaking scenery of mountains and lakes. Glengarriff, a beautifully situated village in County Cork, is only 40 minutes away.
Properties for sale in Kenmare include charming detached, semi-detached, and terraced houses.
7. Waterford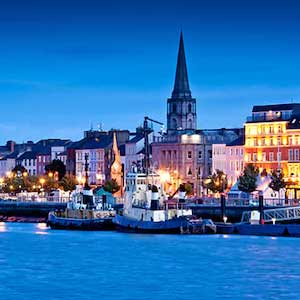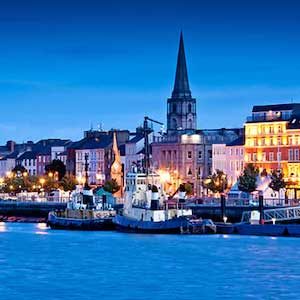 Waterford, a southeastern Ireland city with a population of 53,000, is located on the Waterford Harbour. Its name is firmly associated with Waterford Crystal, a historical legacy of the city's glassmaking industry, which lasted from 1783 to 2009.
Like many cities and towns in Ireland, Waterford was founded by Viking raiders. It has over a millennium of rich history and houses many fascinating buildings such as Reginald's Tower, Ireland's oldest urban civic construction. A cable-stayed bridge crossing the River Suir is one of the more prominent modern Waterford landmarks.
Waterford offers fairly competitive house prices, conveniently short commute times, a sound education system, and many opportunities to enjoy the local culture. It combines a thriving city centre with stunning countryside views, making it one of the best places to live in Ireland for individuals and families.
8. Cork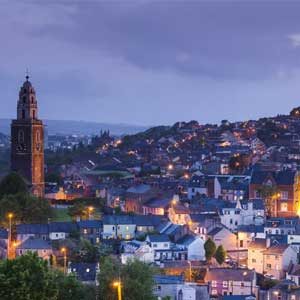 Cork, Ireland's third-largest city in population, is home to around 125,000 people. Its city centre is on an island located between two channels of River Lee. The local climate is temperate, warm, and wet.
Like many other places in Ireland, Cork City has an ancient history that includes Viking takeover and expansion over a millennium ago. It is also known as a "rebel city" for its support of the Yorkists in the War of the Roses.
Cork City is smaller than Dublin and has a more laid-back atmosphere, but it is still a vibrant place with many attractions such as restaurants, pubs, and music festivals. The city is considered Ireland's tech and science centre and is home to University College Cork and Cork Institute of Technology.
Like Westport and Killarney, Cork was shortlisted in The Irish Times Best Place to Live in Ireland competition.
9. Galway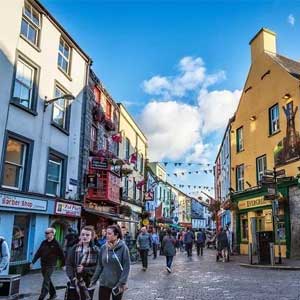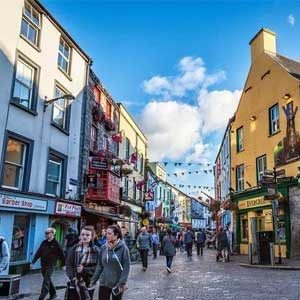 This central-western Ireland port city, founded during the 12th century, is located along Galway Bay, with the Rivers Corrib and Galway running through it. The population is around 80,000, which is small enough to keep out of crowds but large enough for a wide selection of career, entertainment, and cultural opportunities.
Galway hosts an array of sporting clubs, pubs, restaurants, shopping locations, theatres, and museums. It is also home to NUI Galway, a top-rated university founded in 1849.
Although the city of Galway has expanded in recent years, property prices have remained affordable, far lower than in Dublin. This, along with the city's powerful culture, excellent education options, and a well-developed network of buses and trains, makes Galway a particularly desirable location.
Galway ranked 4th in the Lonely Planet's Best in Travel for 2022. A four-city study on age-friendly environments also considered Galway the best city in Ireland in terms of walkability, ahead of Dublin, Cork, and Limerick.
10. Aughrim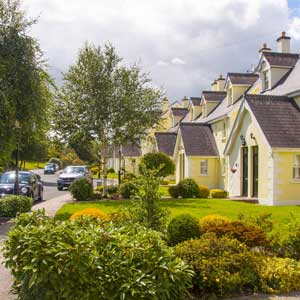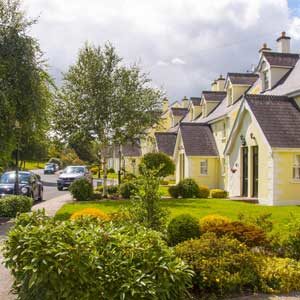 This small town is in County Wicklow in eastern Ireland. With a population of under 1,000, it is a place for those who crave a quiet, retired life in a rural area.
Prominent local industries include agriculture, timber, horticulture, and fishing. The village hosts the Aughrim rugby club and the Gaelic Athletic Association. Aughrim has a unique visual appeal thanks to many of the buildings constructed with local Wicklow granite.
Properties available for sale include charming bungalows, detached and semi-detached houses, and townhouses.
Make the Right Choice for You
If you are looking for the best place to live in Ireland, many of the country's stunning locations might seem tempting. Ultimately, your decision will be based on your individual needs, preferences, and factors such as your age, career status, and family size. From Dublin's bustling streets to the quiet rural atmosphere of Aughrim, the Republic of Ireland has something to offer everyone.
Moving to Ireland? Transport Executive Is Here for You
Planning a move to one of the best cities in Ireland and need a man with a van service to help you pack and relocate your possessions? At Transport Executive, we are here to help make your moving experience smooth, efficient, and as stress-free as possible. We promise top-notch service at competitive prices. Our professional movers are timely, proficient, and responsible, packaging all items carefully to avoid damage.
Call us at +44 20 3318 4720, contact us through email or chat, or use our online tool to receive a free, no-obligation quote.